SAMUEL BRAND'S KNOW-HOW
The glassmaker's profession always seemed quite mysterious and fascinating to me. The visit of Samuel Brand's workshop has been an opportunity to discuss about the production process of a piece and the use of traditional blowpipe and blowtorch. We also talked about his tools and the glass whims. A very rich and instructive conversation.
Where do you work ?
My workshop is in Le Lardin Saint-Lazare. At this point, my workshop is not completely ready yet. My blowtorch workshop is ready but my ovens (for blowpipe's work) are not operational yet. I want to be completely ready before turning them on. For now, I am focusing on the blowtorch. One of my friends works nearby and he sometimes lends me his ovens to make blowpipe pieces. If everything goes well, I will open my workshop-boutique in 2020. I still have works to do. I just redid the floor and I still need a window for my shop. Once it is done, I will be able to receive visitors.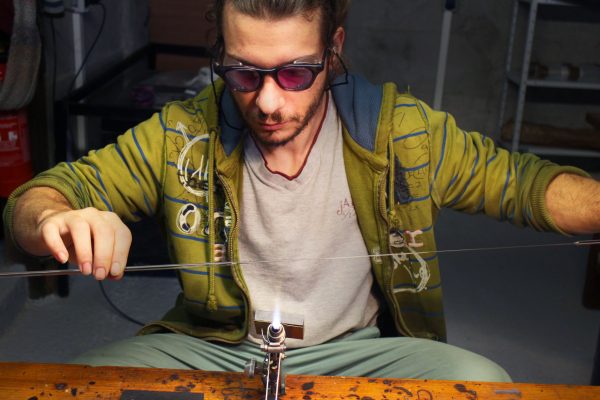 My friend and I are trying to promote glasswork. We would like people to discover other facets of glass. Pieces we usually find in shops don't show what we can do with glass. We can obtain very different results. We can also explain that there are many important steps in the glasswork process. We too often overlooked annealing process, for example. Many persons don't know that glass must be annealed to be solidified. I really like the relationship with the public and demos. I will soon be able to show my work live, what I haven't been able to do during the last eight years because I was selling on markets in Dordogne.
What are the main steps to produce a piece with blowpipe ?
With traditional blowpipe, you first need to take material with the blowpipe in the oven. Then, I need to take the colour to create a pattern. The colour is in powder or beans. A third colour technique exists, it is called 'ballotte'. It is pure colour placed at the end of the blowpipe. I don't use it a lot. Coulour powders and beans can be compared to gouache and watercolour. Powder is like watercolour and beans are like gouache. We use a technique or the other according to the effect we want. Once the pattern is done, we blow the first small bubble. We call this step 'la poste', it is the first step to create a piece, its skeleton. If the skeleton is fine, then we have a good basis to continue the piece. This step is crucial, if we miss it or if we do it in a bad way, the piece of glass will remember and transcribe it. The issue will progressively worsen during the production process.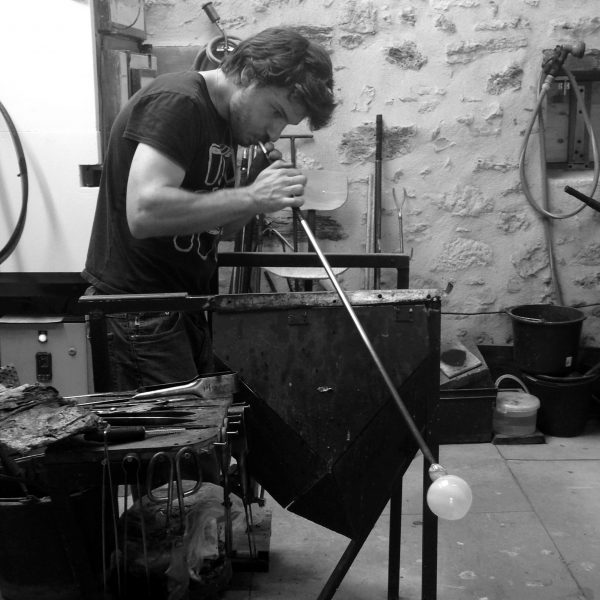 Then, I put glass again on the piece and I start to shape it. There are many small steps but, to resume, I make the bottom and then an empontilling. It is a collage at the bottom to obtain an off-center piece. The part which is still attached to the blowpipe can be heat up again to open it when it is hot. Once the piece is done, you have to heat it again. Annealing process is 510 degrees to eliminate internal tensions. Temperature will slowly gets down until the morning after. This step is necessary otherwise the piece would not last. A piece which is not annealed is not finished because tensions remain inside. The piece will break to release them. The aim is to erase the glass memory.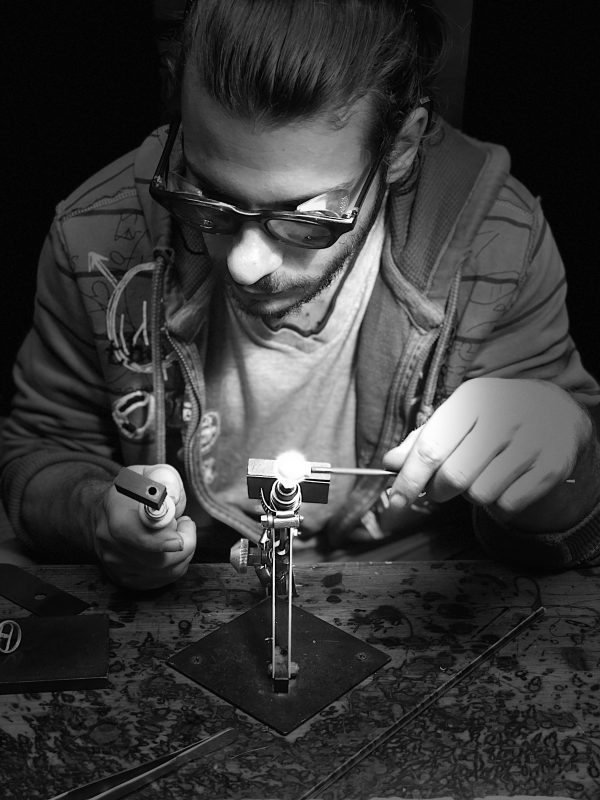 What are your favourite tools ? Why ?
I like my scissors, by the Italian brand Carlo Donà. I use them a lot. They are thin, they allow to make shapes, patterns, to remove a bubble, a stone in the glass, etc. I really like my cutting iron, for blowpipe work. Regarding blowtorch work, scissors are also really useful. I really like my metal spatula which is usually used to plane wood. I use it to shape my pieces.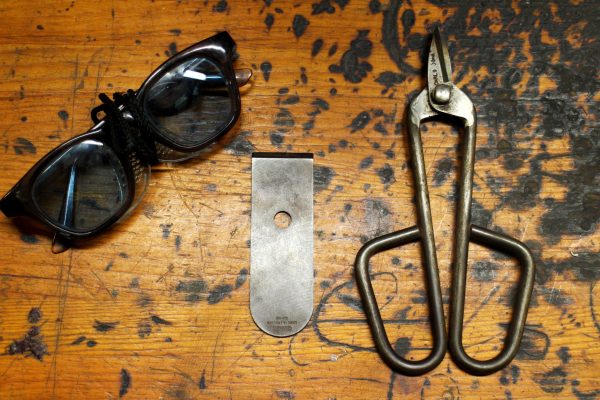 Do you prefer blowtorch or blowpipe ?
It depends on the piece I make. I completed a training programme in glassblowing and if I could do it everyday, I would. However, I recently tried new experiences with my blowtorch and I enjoyed discovering new work processes. Blowtorch and blowpipe are now intertwined with my work, I cannot imagine using only one technique.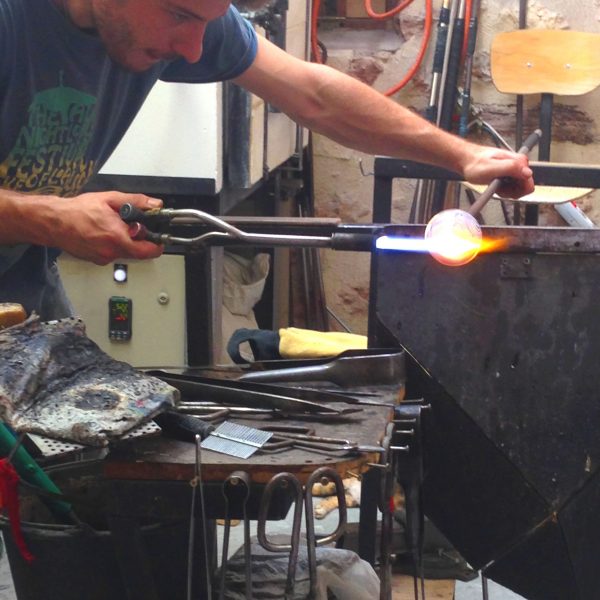 Is working with fire difficult ?
No, I love it. However, it is capricious. During the six first months, you go crazy because you do not manage to do anything ! In my opinion, there are persons who can easily and immediately do things. I had to work and to remain determined to improve my skills.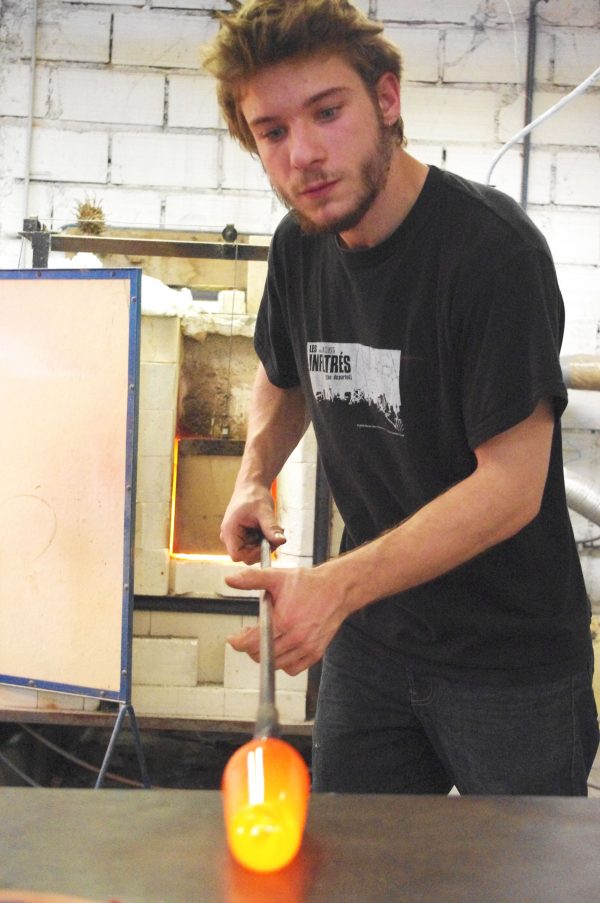 What are the techniques you mostly use ?
Regarding blowpipe, I like to work on the mass and patterns inside it. For example, I love making paperweights. I also love to make blown pieces especially by using Venitian ribbon glass technique. It is a mould that looks like a French cannelé. It allows to obtain colour lines that we can then rework to create new patterns. I don't have any favourite pattern, I make quite different ones. For example, I never think I am going to only make patterns with filigree sticks for a week.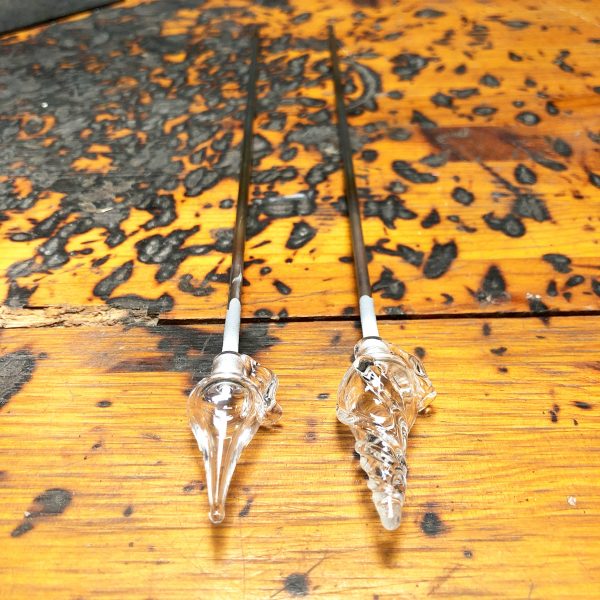 Regarding blowtorch, I rather use a filigree stick and then make a polkadots pearl. With blowpipe, it is the same production process but I change of pattern everytime. I don't like to make the same pattern all the time. I think it is related to my experience in Saint-Louis. There, I happened to make pieces for seven hours in a row. It is a good way to intensively produce but not good for the soul. I don't want to produce large quantities, I want to own a human scale glassware.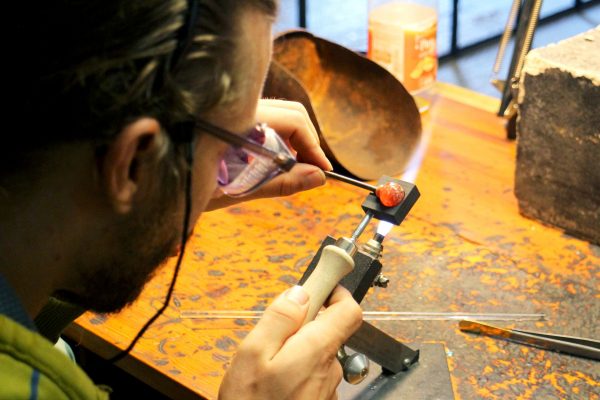 How do you choose your raw materials ?
Regarding blowpipe, as soon as my ovens are turned on, I will use Telux. For colours, I use Kugker's materials, a German brand that produces colours for glassblowers. Their colours remain quite similar. It is convenient even if it is not really important to me. I don't work with unique shade, I love colour.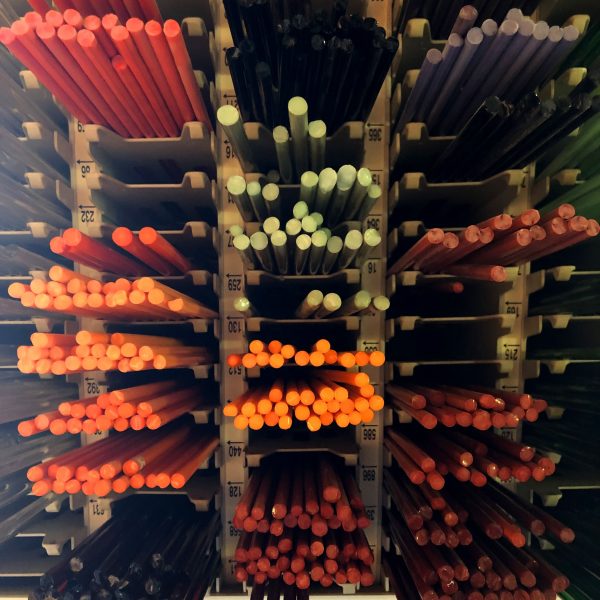 Regarding blowtorch, I have Effetre glass (former Moretti) from Murano. It is very high quality glass. I love using this glass. It is felxible, it does not have bubbles. For sticks, it is one of the most expensive but it worth it. I prefer to pay a bit more and make good quality pieces. I also work with American colours which are compatible with Italian glass. These are usually good colours. I also have a supplier in France who offer foreign glass because we don't have direct glass supplier in France. The raw material choice is essential, it is one of the two most important things in my job with annealing process.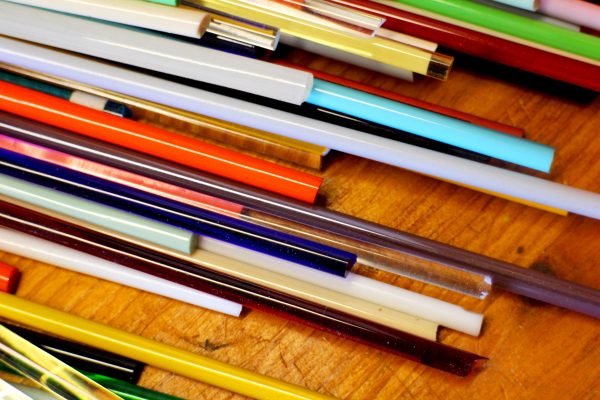 Do you have usual day of work ?
No, I don't have any specific habit. I will have work schedules when my shop opens. For now, with the markets, I am continually working. I sometimes take a break to have a private life. I recently realized of the necessity to take breaks, I sometimes still have difficulties to do it. When I work, I am obstinate.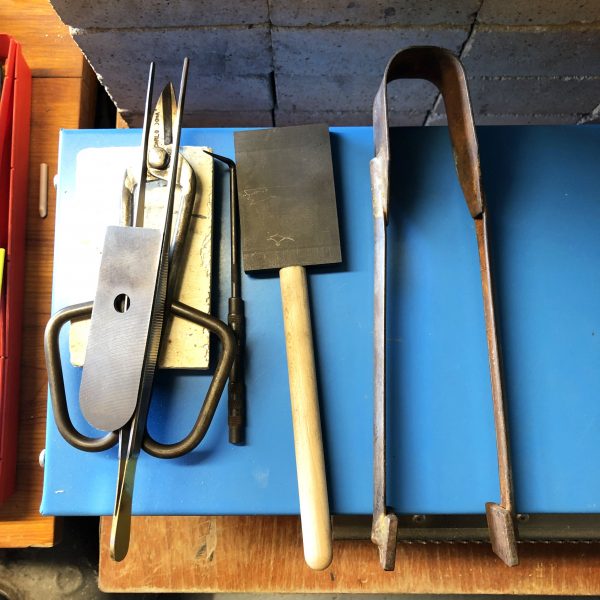 Which other job could have attracted you?
Several manual jobs. I am attracted by metal, wood and ceramic, to a lesser extent. I love noble materials. I am less attracted by leatherwork but I could have been interested by many materials. However, I really love fire so I think it could have been metal. I also really like wood, my workshop is full of it !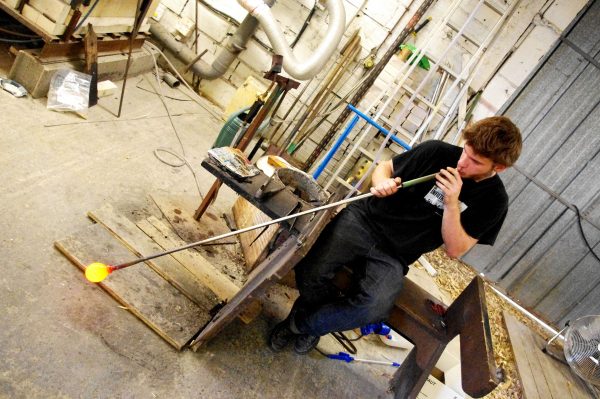 Photos : © L'Atelier verrerie du Chat Noir, © L'Envers du Décor. Photographs provided by Samuel Brand and L'Envers du Décor and published with their approval.