Izumi Idoia is a passionate and very curious artist. Her universe is based on her exceptional imagination, her varied artistic references but also on a constant quest for a balance between passion and rigour in her practice.
Can you name 3 creative persons you like?
I am a very enthousiastic person so there are many persons, even more!!
Lately, I really loved the universe of Iris van Dongen, a painter. Then, I don't follow the world of illustration, I am more inspired by plastic and textile artists like Kustaa Saksi's weavings or Nick Cave dancers. Generally, I like audacious artists and colour magicians.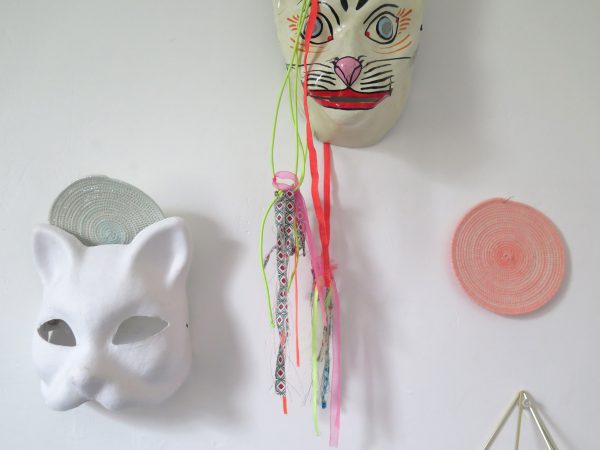 Do you have favourite artists?
A lot, but among the ones I have been loving for a long time, there are : Meredith Monk (composer and choreographer), Kate Bush (singer), Buto Ushio Amagatsu (dancer), Ryoji Ikeda's installations, Tsumori Chisato (stylist), Henri Purcell's music, Hilma af Klint (painter), Matisse …
What are the two main qualities to do your job?
Beyond drawing and technique, I think above all you need to have your own universe and things to tell. You simultaneously need to be crazy/passionate and disciplined/organized. Well, to be able to work quickly is also an advantage!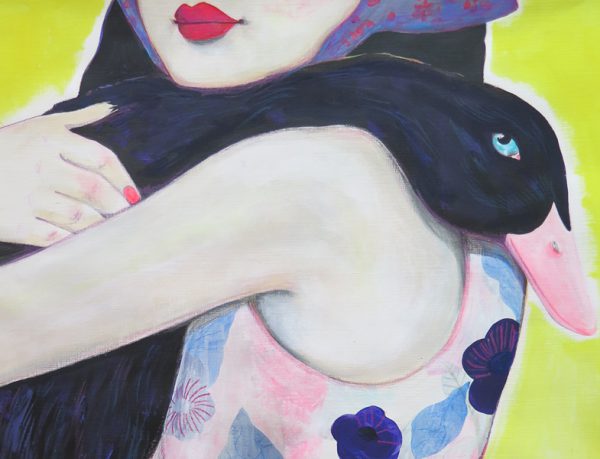 What would you advise to a new illustrator?
It takes time to improve your style and technique so I think before creating your business, it is very important to gain experience by working for others. You need to process different orders or go abroad to get out of your bubble and your school formatting. It allows to step back from your functioning and way to see things, to learn requirement, to surpass yourself and to accept criticism too!
Then, beyond the drawing, it is essential to totally master Photoshop, Illustrator and Indesign to expand – again and always – your interior garden…to meet designers…to travel and always be marveled…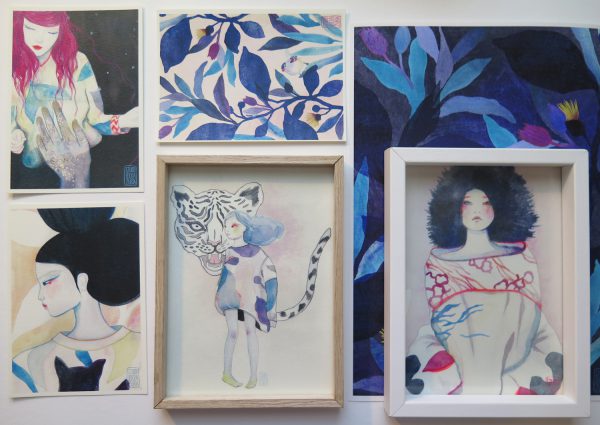 Is there an illustration you would have loved to create?
In my dreams, Chagall's ceiling at the Opera Garnier. 😉 
I don't know, maybe an immersive installation or a fresco in a symbolic and special venue but I wouldn't be able to give a name.
What is challenging in your job?
I am part of the Maison des Artistes, without wage and, from the beginning of my career, I have never financially leant on someone, so I need to be confident and not to fear the unknown otherwise it can be frightening.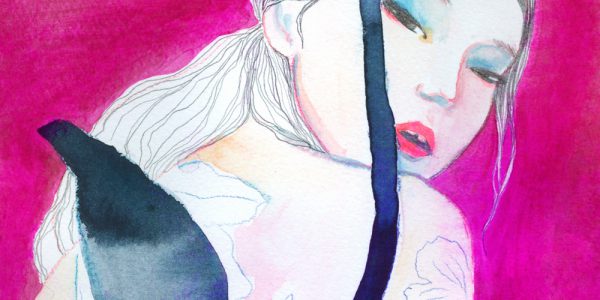 What is the most rewarding thing about your about?
When people tell me they feel better when they see my paintings. And, sometimes, when Givenchy calls you to paint on Beyonce's dress (I almost fainted), I more and more like the rushes of adrenaline.
What are your projects?
Right now, I just finished the first phase of a long team work with the amazing singer Measparrow : her album artwork «Jungle contemporaine» (contemporary jungle), CD, vinyl, posters, stage costumes…The album was released on October 14th then her video clip «Les Ecrans» (Screens) with Gaëtan Chataigner and Guillaume Massif. Then, we will work on her set design and many other very stimulating projects!!
Some exhibitions are also currently opened or planned : from November 2016 to January 2017 at the Square des Artistes in Paris and at the Rayon Vert in Nantes.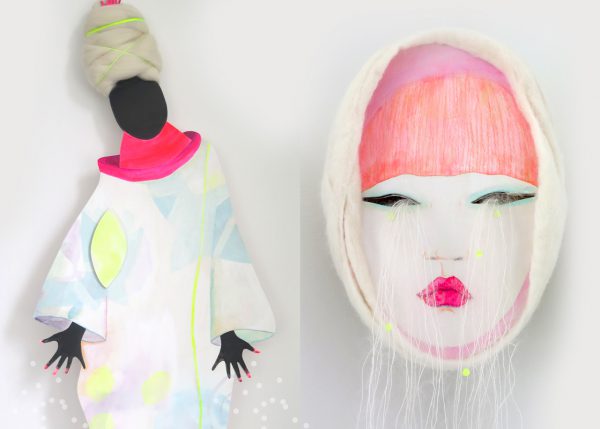 In 2017, I will keep developing my visual and sound tale entitled 'Yume no kioku' started in January 2016 at La Gâterie and other publishing projetcs…
I will also learn sculpture thanks to awarded funding!! I will also keep organizing exhibitions-concerts with the Bordures collective (links between music and plastic arts) and simultaneously working on orders. Let's get to work!
Which designer would you like to see on L'Envers du Décor?
Valérie Boy – I am a fan – or Émilie Faïf.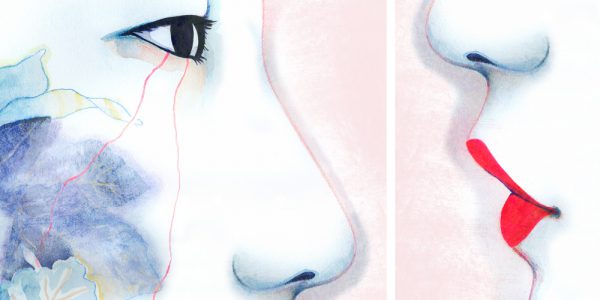 Thank you Izumi Idoia!
 To find Izumi Idoia :
 Website : themuz.com
Facebook : www.facebook.com/izumiidoia
Instagram : @izumiidoia
Photos : © Izumi Idoia. Photographies fournies par Izumi Idoia et publiées avec son autorisation.