Interviewing designers such as Philip Sajet is one of the defined goals for this website. To be able to talk about this work with a person who have seen its evolution during several decades and to be able to transmit the information to new designers or interested visitors is very interesting and rich. To conclude this nice interview, Philip talks about the jewelry field, his love of art and his definition of talent.
Could you name jewellery designers you like?
Francesco Pavan, Giampaolo Babetto, Daniel Krüger, my wife Beate Klockmann, Gerd Rothmann, Vera Siemund, Suzan Rezac et Karl Fritsch.
Do you have favourite artists?
To my mind, there are three great artists in the history of the art world : Michelangelo, Rembrandt and Picasso. Moreover, there are Fra Angelico, Giotto, actually all the Italian Renaissance. And many others…I love Raoul Dufy, Chaïm Soutine, Modigliani, etc.
In music, I like Bach, Vivaldi, Frank Zappa and Bob Dylan. There are also many writers and movies such as the Cohen bothers, Quentin Tarantino, Simone de Beauvoir and many more.

Do you have favourite jewels?
No but once, I made a piece I liked so much I was sleeping with it. It was a really long bullet in amber, made on a lathe. It is really difficult to put amber on a lathe. It breaks easily. It was a very beautiful amber piece and I kept it for a while. I carried it in my pocket and it was under my pillow at night. I sold it later. It was for an exhibition in Poland. The person who bought it wanted a pendant so I made a small hole behind the piece with a ring. Otherwise, I don't wear jewels. I also made these earrings with nails under the pearls but we don't see the nails because they arebrown. If a brown hair person wears it, we cannot see it, we see two pearls and when we come closer, we see the two nails.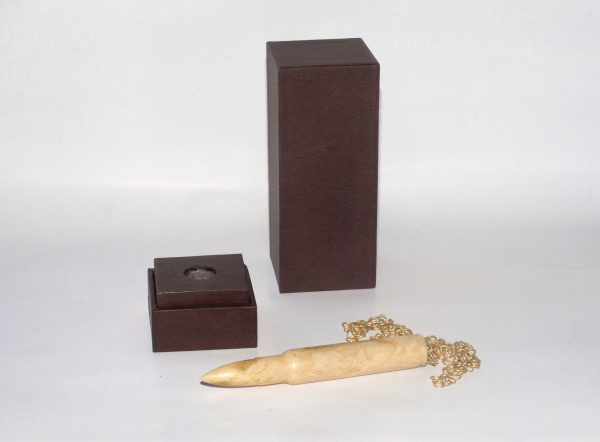 'Amber bullet' pendant, 2013, Amber, gold.
Pendentif 'Balle en ambre', 2013, Ambre, or.
Photo : © Beate Klockmann

What are the two main qualities to be a jewelry designer?
Patience, commitment and generosity.
What would you advise to a young jeweller?
Everybody has a dream. 'Dream' is another word for 'Talent'. These are two similar things. We talk about talent without knowing what it truly means. When we ask for a definition of talent, nobody is really able to answer. It allows me to suggest a definition. Talent means dream. If somebody has a dream, he has a talent. Then, you need to realize this dream.
I would advise to a talented person to find a way to accomplish this talent. It could not be any simpler. It also means you don't have to listen the others, you have to make them listen to what you say! A student often asks his teacher what he should do but it should be the contrary. You have to accept things the way they are. We work on three levels. The first one is the thought, most of us work with that. It is a pity because the thought must serve other functions. Now, the other functions are at the service of the thought. The other functions are emotions and what we feel deep in our heart. The brain must serve the heart. We are making the heart obey to thoughts and that's a mistake. It kills talent!

Is there a piece of another designer you would have loved to create ?
Yes. One day, I have seen this picture of a ring from the 17th or 18th century, from India. There was a raw diamond shaped as a sharpened pyramid, it was not really big. I saw this ring, it was available at Inez Stodel gallery, in Amsterdam about 15 years ago. It was 30 000 guilders. It represents a lot of money, even today. It was sold in two days. If I had had the money, at that time, I would have bought it, kept it a few years and then sold it again.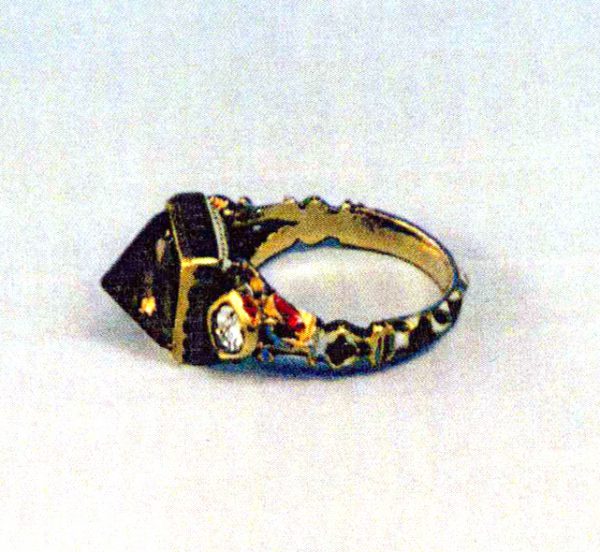 'Indian pasha ring',17th-18th century
'Bague Pacha indienne', XVIIème – XVIIIème siècle
Photo : © Site 'Kunsthandel Inez Stodel Vof', www.inezstodel.com 

Moreover, an Ecuadorian woman designer named Ana Maria Borja made a ring. She wanted to learn how to make enamel so we discussed about it. I like this ring very much, I would have liked to have it. It was her first enamel ring. Technically, it is not so magnificent but it is a landscape, we can see the sun, the sky, clouds, mountains, grass and under it, we see the ground and a skeleton at the bottom. I think it is so beautiful to include all these elements in a ring. We talked a lot about its design so I feel very involved with this piece. I would have never been able to make this kind of ring if Ana Maria had not come to my workshop and she wouldn't have been able to make it if she wouldn't have come to my workshop.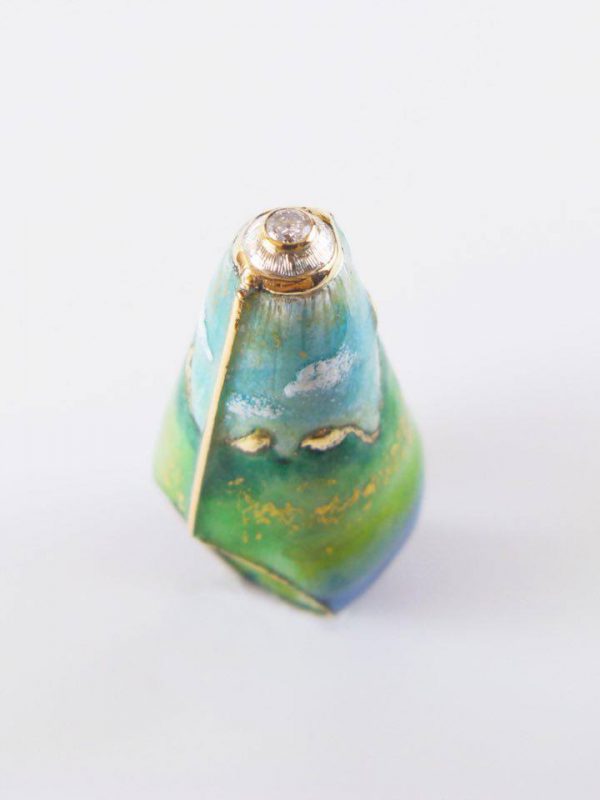 Ring by Ana Maria Borja, 2016, Silver, gold, enamel, citrine.
Bague d'Ana Maria Borja, 2016, Argent, or, émail, citrine
Photos : © Philip Sajet

What is the biggest challenge in your work?
For me, it is becoming easier. I have been working for a long time, I have simplified my technique and I don't really have technical challenges anymore. Now, my challenge is to find the energy to create a new piece. It is emotional, It is emotional, I put all my heart, my commitment, my love and my energy into jewellery. And, generally, people are really cold. I am not talking about the public, I am sometimes disappointed by the professional world. You need to convince people that a jewel – this superficial thing – is also infinitely important.
On the contrary, what is rewarding in your job?
We meet people and friends we wouldn't have imagined to have. When you receive a letter from Japan or China, when you are selected to be part of a collection or when you are invited to participate to workshops. You visit these countries, you meet people who do the same job and there is cultural difference. They have the same working approach and it's beautiful. It looks like an international infrastructure in which people go beyond borders between cultures, ages, gender, etc. We found a way to communicate which is very sympathetic and moving.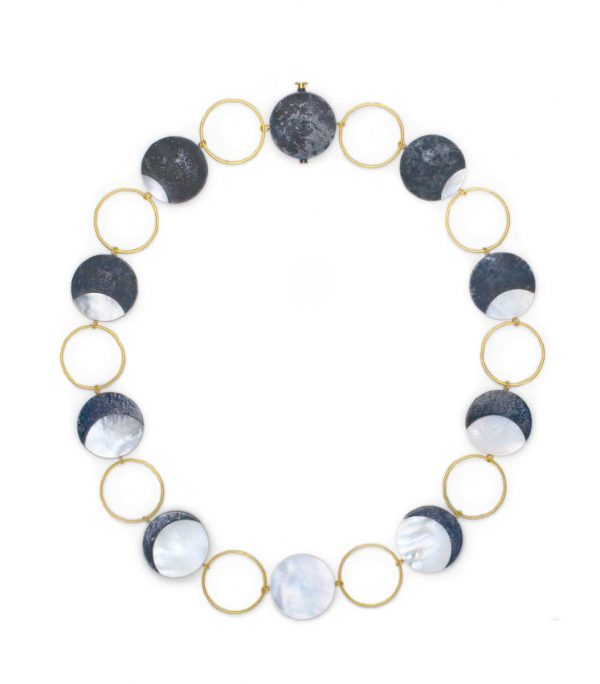 'The Small Eclipse' collier, 2014, Mother of pearl, niello on silver, gold.
Collier 'La Petite Eclipse', 2014, Nacre, niello sur argent, or
Photo : © Beate Klockmann

You started jewellery during the 1970s, how has your job evolved?
In 1977, there were only a few galleries: in Munich (Cada Gallery), in London (Electrum) and in Vienna (Inge Asenbaum) and Amsterdam (Ra Gallery). The was no museum, no websites, no specialized issues and now it is everywhere. In 1987, interest in jewellery increased, people started to write about it. In 1997, it has been developed with Internet. In 2007, everything has exploded and now there are many galleries, websites, etc.
Many persons earn their living from it. Fairs, museums, books, etc. The first time I heard about a book published but not related to an exhibition, I didn't understand the point. We organize an exhibition and then we publish a book to keep it as a memory. Then, Lark books appeared with '1000 rings', '500 necklaces', etc. They published many books. I first wondered which event it was related to but  it was not linked to any exhibition. I thought they would not be able to sell it but now, there is a series of these books which get republished.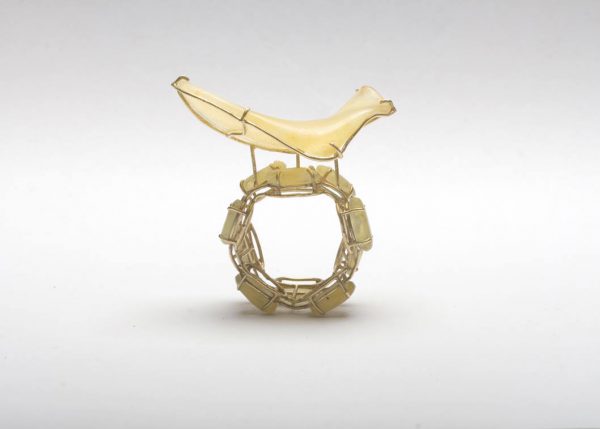 'Potatoe Chip' ring: 2013, Amber, gold.
Bague 'Chips', 2013, Ambre, or.
Photo : © Beate Klockmann

If you read 'Man and his Ring', I explain that art is the necessity of an unecesssary object. All the objects we have, glasses, knitwears, chairs, etc. These are design objects we need and we create beautiful ones. When you create a beautiful object that you don't need – such as a sculpture, a painting or a jewel – it becomes the necessity of an unecessary object. It is totally necessary. When I visit a house without painting, it makes me very sad. A jewel is considered as crafts or design objects. We need crafts to create it but the necessity of an unecessary object is art. In that moment, a jewel is a piece of art and it should be given its rightful place.
I have always thought I was 'just' a contemporary jeweller. Now that I see how things evolve in the world, I really realize it is crucial. Art demonstrates the possibilities the human being has. We are destroying everything. It is truly important to defend it.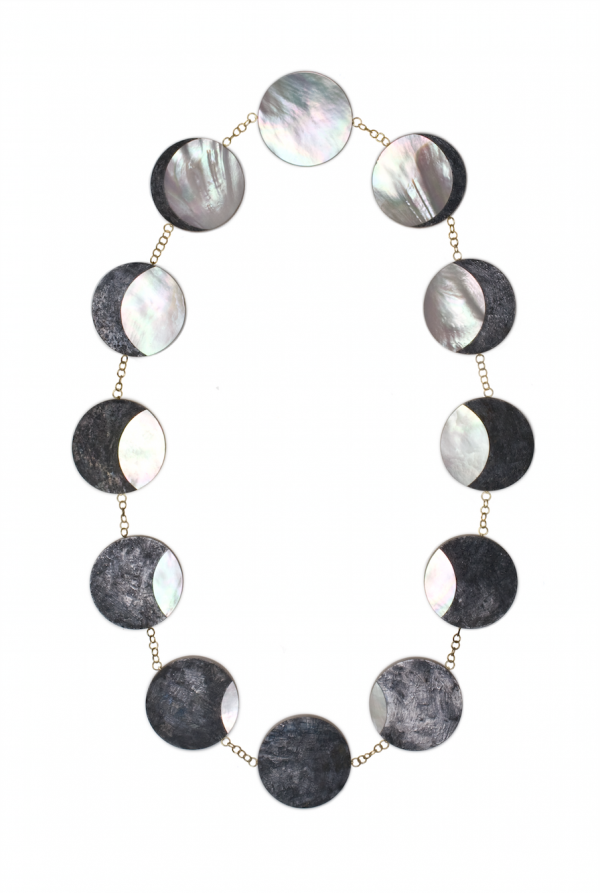 'The Big Eclipse' necklace, 2012, Mother of pearl, niello on silver, gold.
Collier 'La Grande Eclipse', 2012, Nacre, niello sur argent, or.
Photo : © Beate Klockmann

What are your projects?
I am working on a confidential jewellery project. I can only tell it's about snakes. It is quite kitsch but I think it is very important to make jewels you don't really like, in principle. One must be open to what present itself.
Apart from that, I don't really have other projects. I have worked a lot with rust – to create rings – and replica diamonds.
Do you want to create a jewel you never had the opportunity to make?
I really would like to have one kilo of gold! If I would love to play with gold in this way! We are always so careful with gold.
Which designers would you like to see on L'Envers du Décor?
Karl Fritsch's answers always surprise me, he always gives an answer I don't expect. There are also Babetto, Pavan and the absolute master of technique : Giovanni Corvaja.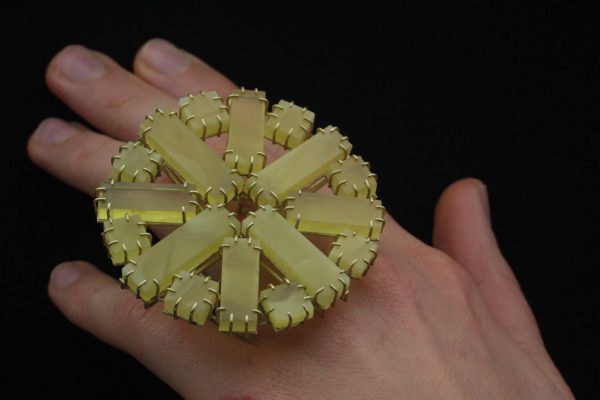 'Sun' ring: 2016, Amber, gold.
Bague 'Soleil', 2016, Ambre, or
Photo : © Beate Klockmann
Thank you Philip! 
To find Philip:
Website : www.philipsajet.com
Photos : © Beate Klockmann, © Site 'Kunsthandel Inez Stodel Vof' et © Philip Sajet. Cover : Philip Sajet's hands, 2013 © Beate Klockmann .
Photographs provided by Philip Sajet and published with his approval. Texts published and written by Marion Bonraisin / L'Envers du Décor : www.lenvers-du-decor.com