Virginie Fantino's amulets
Virginie Fantino's jewels are real Proust madeleines. Who has never collected pits, leaves or shells in precious and small boxes, during his childhood ? Virginie's small amulets seem to preserve our older memories. The metal folds on a nutshell, a cherry pit or a grape seed. An ordinary object becomes precious, it is enhanced and tells a new story, invented by the designer. Virginie kindly accepted to show me her universe and to tell me about this activity she likes so much.
Could you please introduce yourself?
My name is Virginie Fantino and I am a jeweller. I was born in Nice and I have worked for a long time in Paris and Saint-Denis. I now live and work in Marseille.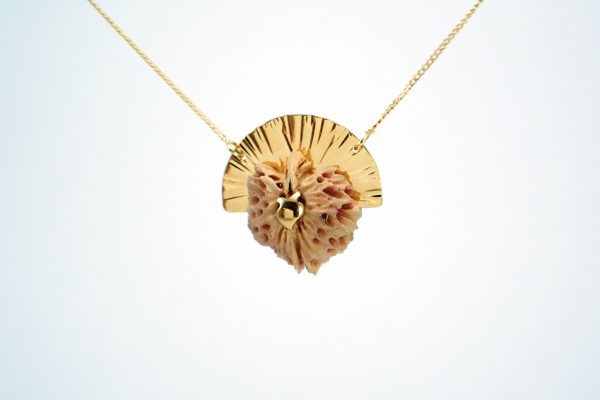 How would you define your universe?
I am inspired by nature and human body. A jewel is on your body, and indeed, nature and human body seem to be important notions.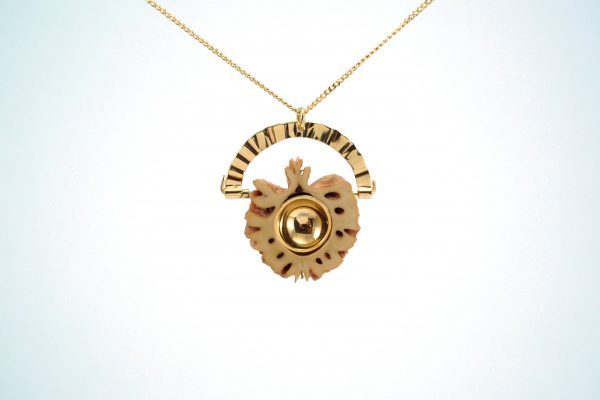 When and how did this passion start ?
I got a CAP (vocational training qualification). I have always made pieces for fun. When I started to make a collection, I knew I was going to be a freelance jeweller. Moreover, I think this passion is related to a family pattern. My parents are freelance, my father is a cabinetmaker and my mother is a private nurse. Therefore, this activity and this position seemed clear and manageable. First, I have been employed – for a time – while I was making my first pieces. When I started out, a workshop manager has been my guardian angel, he was amazing. I managed to make a pretty consistent collection and I launched my brand with his support.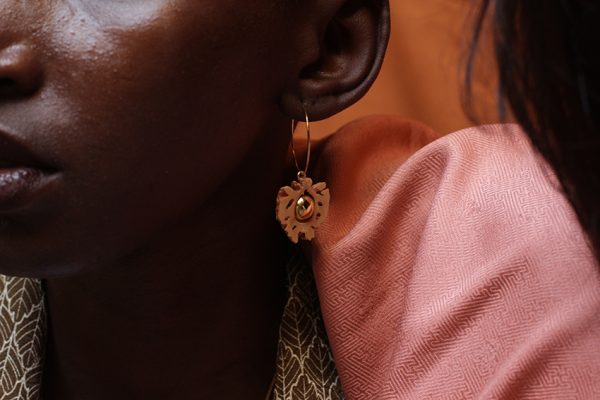 What is your background?
I have a bachelor of applied arts mainly dedicated to objects. I have started observation internships in jewellery since highschool and I really liked it. One day, one of my teachers asked me in which world I wanted to live. This question resonates with me. I already wanted to have a workshop where I could make my pieces and feel good. After highschool, I completed a Diploma of Arts and Crafts in metal sculpture (Diplôme des Métiers d'Art Sculpture appliqué au Métal). It was really creative and I really liked the material discovery. I have asked for a deeper exploration of the technical aspects. Then, it ensured me the possibility to work in a workshop if my pieces were unsuccessful. I did an alternate CAP (vocational training qualification) with a subcontracting company for jewellery show. Among other things, we subcontract for luxury brands such as Dior, Balenciaga or Chanel. This experience was very interesting because we were working on a different scale on huge jewels, series, prototypes or mockup. I felt comfortable in this universe. I was hired in this company and slowly, I asked for a ¾ time contract, then a part-time contract and I finally quit to launch my activity, in 2013.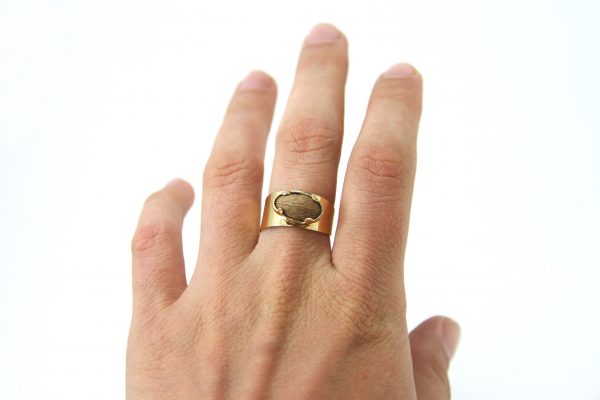 How did this passion for jewellery start ?
Originally, it was an analysis of what I was exploring. When I was a kid, I had three microscopes, I was fascinated by small things. I also liked to take a deeper look on things. For example, I was really intrigued by the human body. I was always looking for details, textures and skin, stone or leaf details.
My interest for details quickly appears in my way to draw and to shape pieces. I wondered about my future job and jewellery slowly and naturally became clear. These are small pieces placed on the skin. I didn't want to make artworks, I wanted to make pieces people could appropriate. It happened progressively. I already wanted to work with metal. This material was fascinating and a bit scary at the same time. Metal can seem cold however it is shifting and changes with heat. As soon as we heat it, it becomes soft again. As I told you earlier, I started to contact jewellers to observe their work. I've immediately been passionate about it, I was able to observe them for hours without being bored. It was a sign !Since that day ? I have never been tired of it.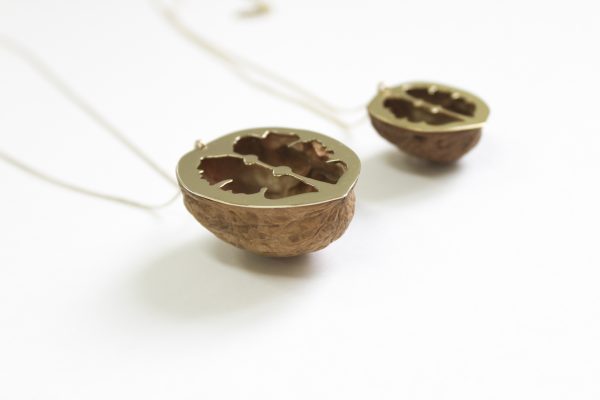 How did you start making jewels with shells and pits?
Walnut is the starting point of the project, it is my centrepiece. I saw it as a brain and nature symbol. I wanted to intimately reach people. The shape inside a walnut is similar to the Rorschach test. It is also an object that we are used to see but that we don't observe anymore. We see walnut shells, hazelnuts and cherry pits everywhere, everyday. It is ordinary. I wanted to take trivial and daily objects and give them back their sense of pride. Some seeds allow people to remember their childhood memories and personal stories. They are protected inside the structures I make. Finally, I reveal intimate stories and my jewels can be moving for some persons.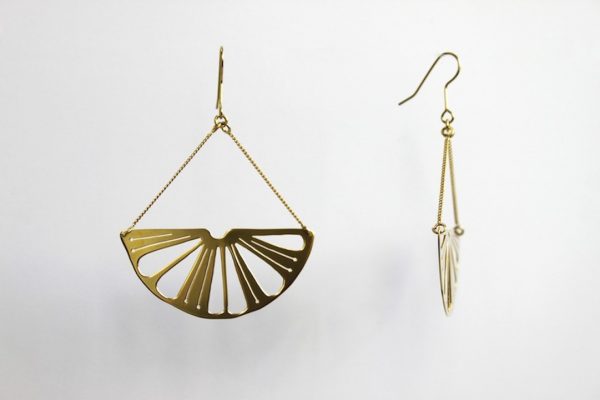 Moreover, I really like to work with evolving objects. I chose to use metal which is a sustainable and precious material. We don't change these jewels every six months. Natural elements will acquire a patina over time. Therefore, this jewel will progressively acquire value as it is worn. I think it is quite beautiful. I have started to work with these materials telling myself 'we'll see what happen'. When I began in 2013, I have been mocked. People told me it was absurd to wear walnut shells around the neck. It is quite funny to see how things changed. In two or three years, people got used to this idea. It has become trendy with this increasing interest for 'upcycling' and nature. People are not suprised anymore or pleasantly. Before, reactions could be quite tough.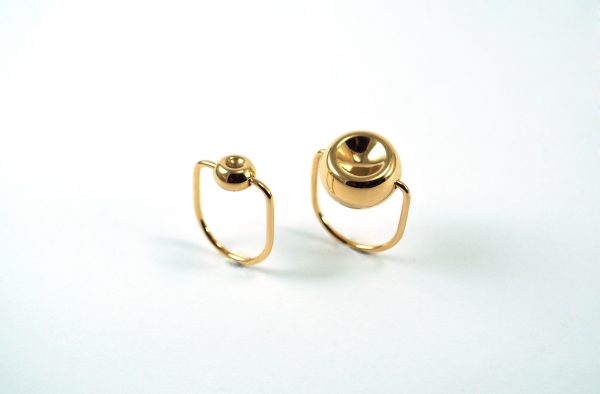 What was your first jewel ?
I made it at school. My teachers gave me a theme : 'metal and paper'. I made small brass cages and paper birds origami, inside.
What do you feel when you work ? What does it bring you in your everyday life ?
It depends on steps. During my research, I feel exalted or frustrated if I cannot express what I have in mind. At the same time, whatever my feelings are, this process is always necessary, it doesn't seem to be a choice. It has to come out. When I don't have time to create, I feel like I am boiling inside. When the creative process goes well, I feel like I am doing yoga, it is a soothing ritual close to meditation. Body and spirit are fully involved in this work. To do the right gesture, you need to breathe and well position your back and your arms. Metal requires control. For example, when you hammer, the more you beat it, the more metal hardens and becomes less reactive to the hit. It is very interesting, you need to know where you have to beat and why. It is a controlled gesture. When you acquire this skill, it is pure hapiness, everything works and it is fun! I feel very peaceful when I am creating. However, all administrative tasks – that you are not necessarily aware of when you begin – don't have the same positive effects !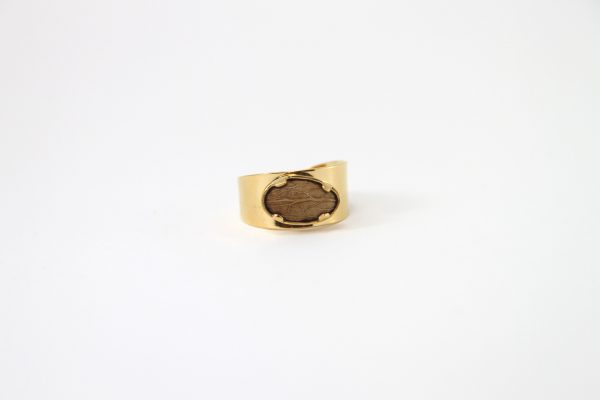 Where does your inspiration come from ?
My inspiration comes from everything around me, relationships and everything else. When I see a small plant growing on the asphalt, I fin dit really poetic. However, my main inspiration comes from human body and nature.I am really interested in the connection we have with nature. We quite often live in a city and we miss some details. We easily feel assaulted by what surrounds us and we don't look at day-to-day small and precious things anymore.  I like to underline them through my work.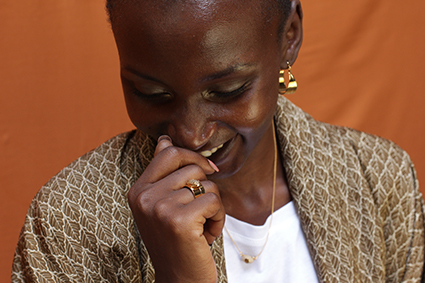 Photos : © Virginie Fantino. Photographs provided by Virginie Fantino and published with her approval.