LAURA ESSAYIE – KNOW-HOW
The second part of this interview, dedicated to Laura Essayie – jewellery designer –  mentions her know-how, her workshop and her choices. Laura Essayie doesn't only work in one location. She travels and finds a solution to keep making jewels, wherever she lives. She is also trying to find solutions to work but also respect our planet's natural resources. Laura finds jewels at the flea market, melts them and offers her customers to bring their old jewels to give them a second life.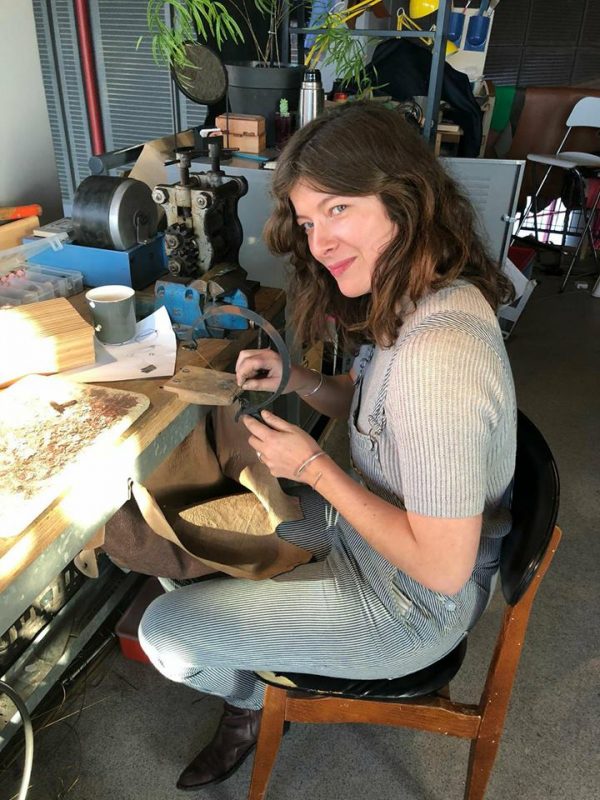 © Laura Essayie
You travel between Paris, the Netherlands and Italy, where do you work?
It is not always easy to follow. I grew up in Paris where I studied and started to develop my collection. However, I fell in love in the Netherlands while I was doing an amazing internship. I never thought I would spend more than 4 months in this country. I have spent most of my time there for the last five years. I am now living in Utrecht, unknown city next to Amsterdam. It is nice to keep it confidential, this city has all the advantages of the capital town – old canals, beautiful buildings, bicycles everywhere – without its defects (ill-effects from mass turism) but with a very young and cosmopolitan population. Regarding Italy, I'm lucky to have a family house in a village with a heavenly river. I spent 3 months there during the summer and I created my next collection. However, I am never far away from Paris where I often come back to see my friends, my family and to organize private sales.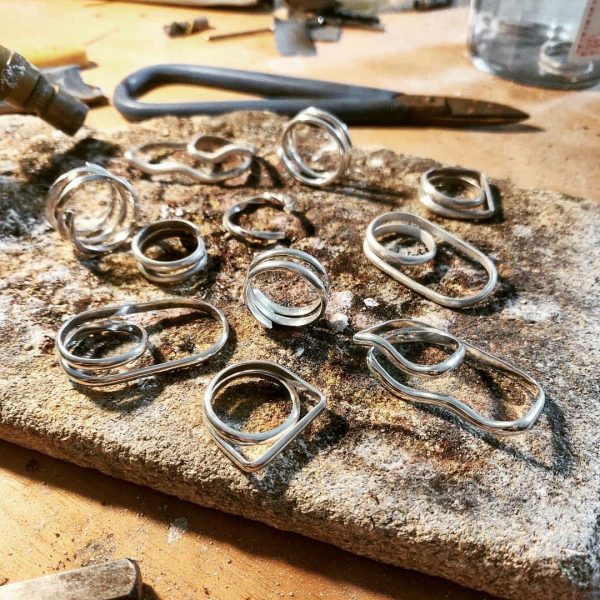 © Laura Essayie
Why did you choose to move so much?
I am not really able to choose only one place to live. I like this unstable balance, not knowing where I will be in 6 months. This is how I feel in the right place.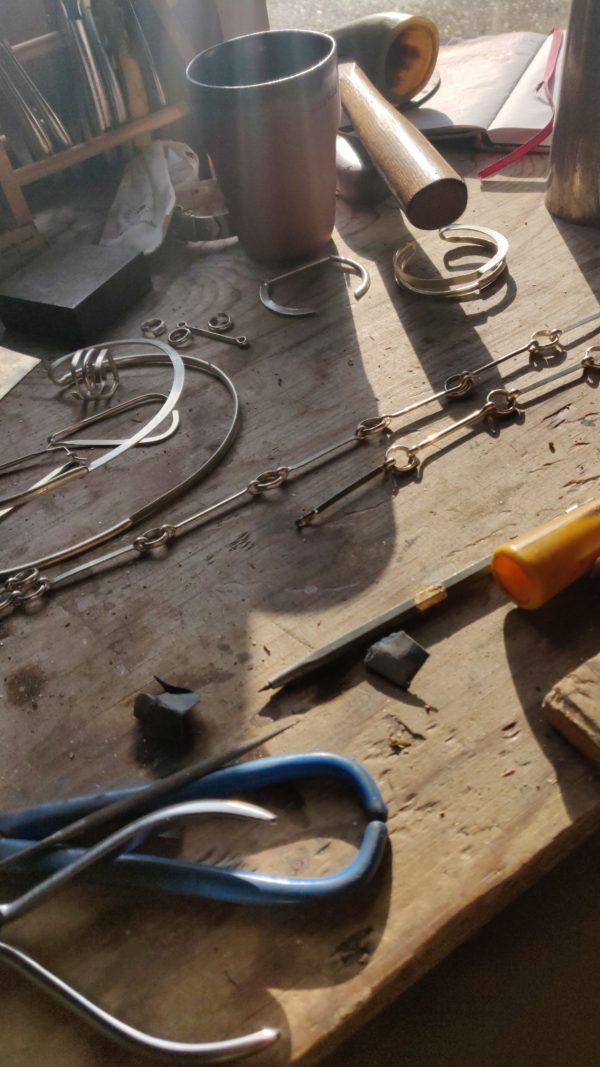 © Laura Essayie
What is your favourite tool? Why?
I think I really like my pulling bench. This awful word designates a hand tool which allows to make silver or golden wire. I put this wire in a different draw plate whole according to the project (round, square or ovale wire). The wire is pulled by a big plier which strenght is multiplied by a crank. In short, it is big complicated if you don't see it. I love this tool for at least two reasons. It was too expensive to buy so my boyfriend suprised me by building it with simple but very efficient materials. It was a real gesture of love which allowed me to substantially ease my work. Moreover, this tool is essential to my work. Without it, I wouldn't be able to recycle my own metal waste or silverware found at the flea market and to make my own wire. It makes me completely independant.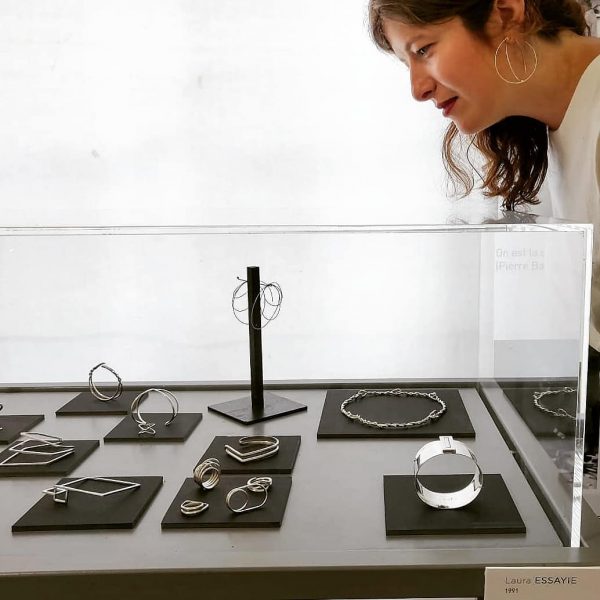 © Maarten Van Rossum
Which tools do you mostly use ?
My pliers! I have 5 or 6 different pliers and which one has a specific function to make this curve, that angle, this  bow. If I lose a plier, all the process stops.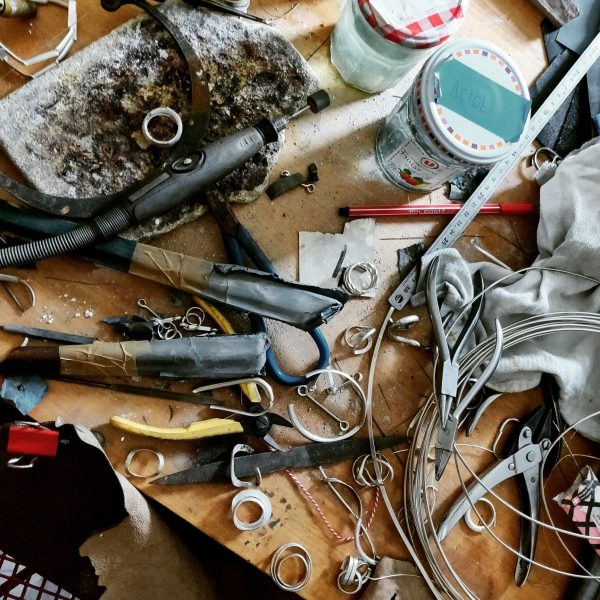 © Laura Essayie
Which materials do you mostly use and why? Which ones do you prefer ?
I prefer silver. It was my uncle's material. It is incredibly soft to work with and it has a luminous glow.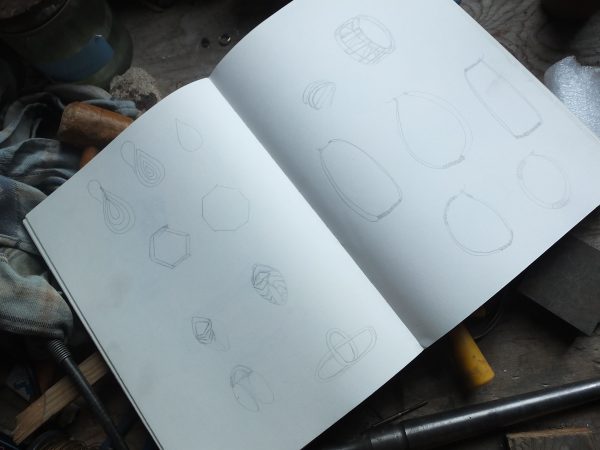 © Laura Essayie
You are specialized in sculpture, what have you learned from this medium?
Sculpture is about modeling, shaping, trasnforming the material in three dimensions. This is what I am passionate about. I don't like heavy machinary that makes noise and sparkles so I naturally reduced the size of my sculptures to adapt them to a body. Actually,  I never imagine a jewel in a different way. A chain with a romantic pendant and a ring set with diamonds are not part of my vocabulary.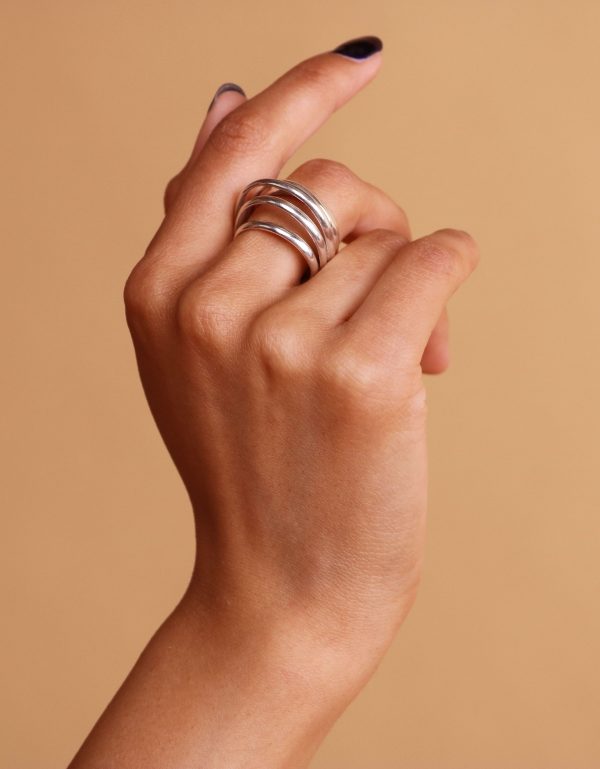 © Rémi Ferry
How do you choose raw materials?
I try to use recycled materials as much as possible to stop drawing on our natural resources and stop contributing to the social and environmental destruction of our world.

© Laura Essayie
To this end, I find silver jewels or spoons at the flea market. I also invite my clients to reuse old jewels they don't wear anymore to make a piece from my collection. For the rest, my supplier provides a 80% recycled raw material certified by the Responsible Jewellery Council. I would love to go further by only using a 100% recycled material. I hope to do it soon.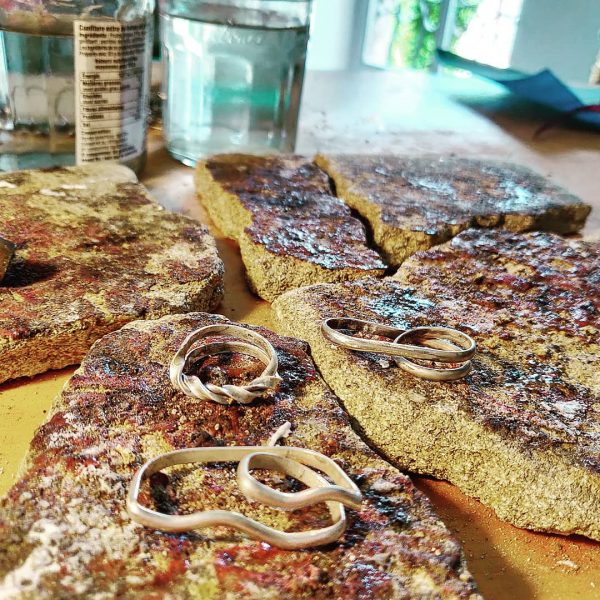 © Laura Essayie
What is a usual day of work?
Each day is different. It also depends on the location of my workshop. I prepare my orders while listening to podcasts, I answer my emails, I sometimes take a small break. I go to second hand stores with my boyfriend – who is a junk dealer – where I find all my clothes or silverware I melt to create jewellery. Between two orders, I can try to make a new model then I leave it alone and develop it later. And, by the end of the day, it is time to send my jewels to their international destinations.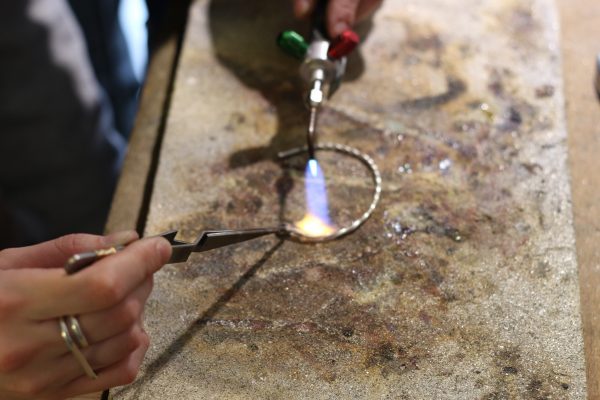 © Wecandoo
Which other job could have attracted you?
When I was a teenager, I wanted to be a music programmer for Radio Nova. I actually did an intership there during my third year of secondary school. It was really great but I realized I didn't have a good memory to remind all the songs titles. I am also very attracted by glassblowing, it seems magical. Of course, I would love to learn wood and ceramic work, it could happen.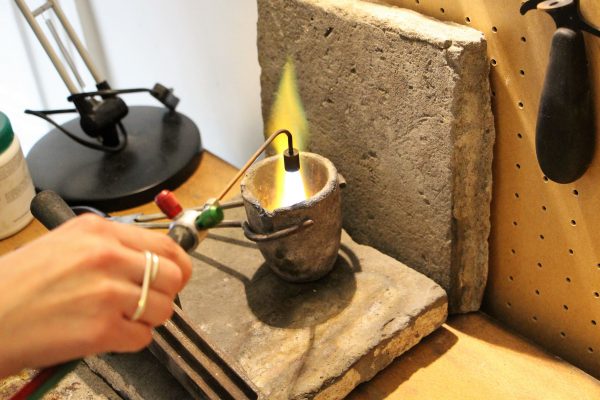 © Wecandoo
Photos : © Laura Essayie, © Wecandoo, © Rémi Ferry, © Maarten Van Rossum. Couverture : © Wecandoo. Photographies fournies par Laura Essayie et publiées avec son autorisation.