Aline is an experienced jewelry designer who deepened her skills in France and in Africa. She discusses – with honesty and distance – about her choices, her tastes but also about the difficulties, delights and flaws of her job.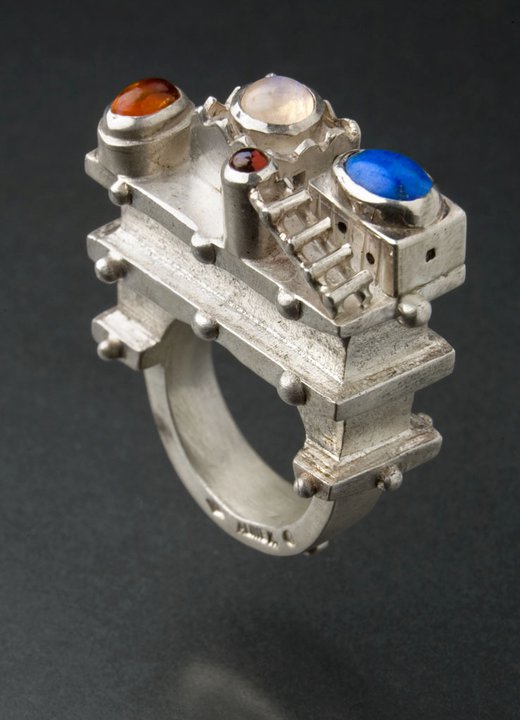 Can you name 3 designers you like?
In jewellery, I love Manfred Bischoff's jewels, a German designer who passed away. I made very beautiful jewels in 22 carats gold and had a very playful universe. I really love Jean Boggio's jewels, all his flowers line and his artistic sensibility because, eventually, I can do anything.
Could you please name other artists you like?
I love Jean Tinguely, Niki de Saint Phalle, I am a fan of Chagall. I love everything… I love Turner's paintings, Italian paintings, The Renaissance, I am truly eclectic. However, I hate Andy Warhol Basquiat, Pop Art, I don't like street art. I like finesse not too rough pieces.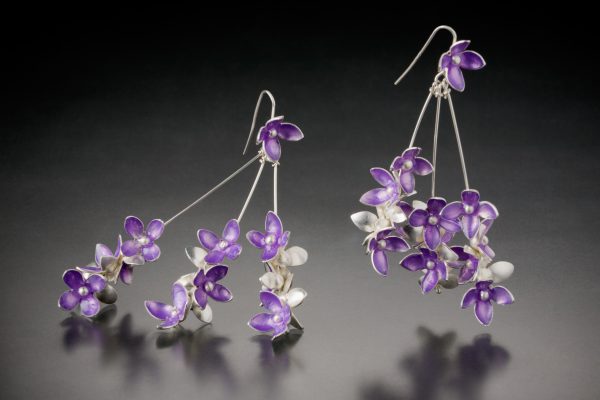 Do you have favourite jewels?
I have this ring I always wear and a small pendant I really like. It is a Pomellato pendant that I have never seen in France, I bought it with my husband in Italy, in Padova, a long time ago. It is a very small pendant with an enamelled coral branch. I also like a jewel by Maria Apostolou, two rings by Nora Rochel, a German designer. These are very heavy flower rings. I have a huge collection of rings but I never wear it. There is also a Greek designer I recently discovered, her name is Anna Vlahos, I wear her noise-maker jewels a lot. She made a bell necklace, I love to wear it but it is really noisy.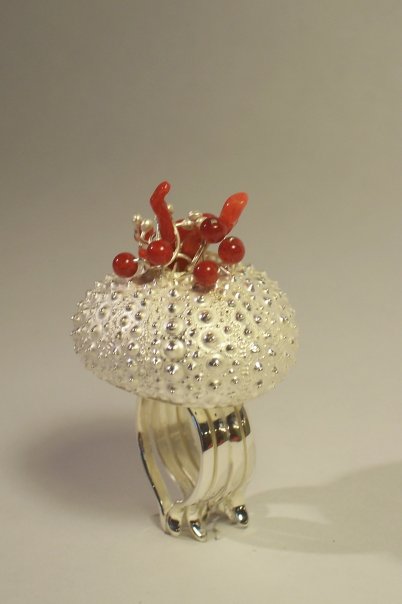 What are the two main qualities to be a jewelry designer?
I will use the same answer I gave when I was a teacher. You need to have good eyes, a lot of patience and perseverance but, above all, you need to have good eyes.
What would you advise to a young designer?
Good luck! I say it everyday on online designers forum. I slightly generalize but, obviously, young people who just finished school – usuallytwith a BMA diploma obtained after four years – think they can become jewellery designers just like that. I could be wrong. I have seen that students from a school in Paris have recently won the Jacques Lenfant Price which is an excellent performance. But, I see many messages on a Facebook forum and, when I see the questions people ask, they seem to ask us to reflect for them. It scares me a bit. I have been participating to Maison & Objet for twenty years, I see many new designers and after two years, we don't see them anymore. There is a problem. Actually, you need to persevere, take time to reflect and be able to take breaks and disappear sometimes. That's what I do, I took time for myself because life goes fast and I want to take care of myself. I participate to professional fairs from january to september and, between september and january, I don't even have time to think. I should almost delegate but I don't want to. You also have to be patient to get things implemented before creating your own brand. Evrything already exists, some young designers come to my booth and say I copy them. I have been making these jewels for twenty years! After a while, I think we will go around in circles – in particular with metal – except if we find brilliant ideas or if we change materials. Other materials are probably the future of our work.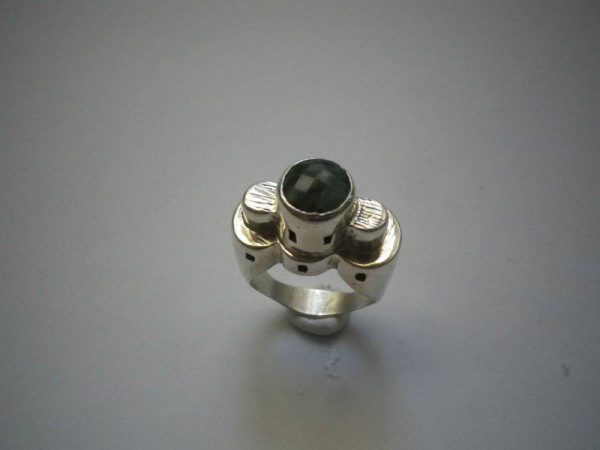 What is your biggest challenge?
It would be to win the Bettencourt Price ahah!
No, I think the real challenge is to continue everyday.
What is the most difficult thing, professionally?
It is probably the loneliness in my workshop. You must like to be alone to do this job. I discussed about it with one of my rare friends in the jewellery field who also work at home et she said 'fortunately, I have my children because sometimes I burst'. That's why I would like to have a workshop elsewhere, to go out.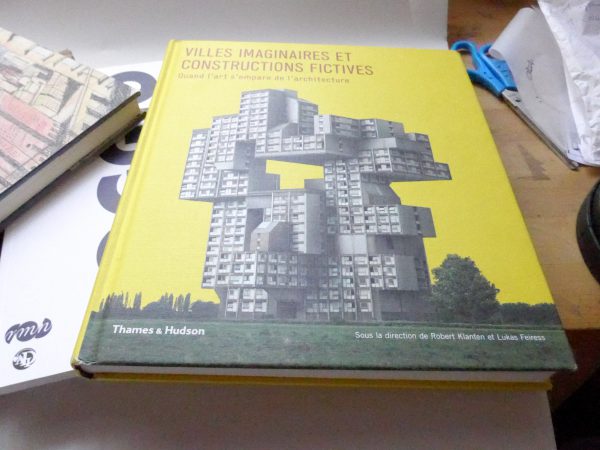 And what is rewarding?
To sell a jewel to somebody and receive an email in which this person tells me how much she loves her jewel and wears it all the time. Once, I felt very depressed and I published a message on my professional Facebook page. A woman answered and said she bought one of my rings in a second hand shop. I made this ring 15 years ago and it hasn't changed at all. It is really weird to see again jewels made a long time ago, It helped me to realize that I have really evolved in my work. You only realize it when you see it.
Is there a jewel you would have loved to create in place of a designer?
Yes, I would have loved to make a Lalique jewel. Actually, I would have loved to create all the Lalique jewels.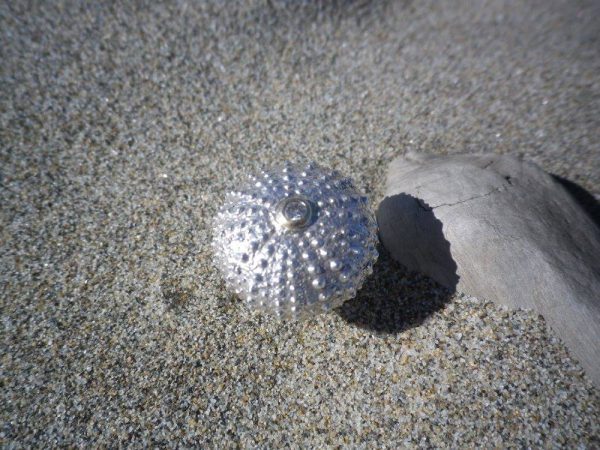 What are your projects?
To participate to public fairs and to find a workshop. It is so complicated right now, I hesistate to find in in France. As long as I have a wokshop at home, it is not complicated. Finding a workshop elsewhere et have to face administrative burden is complicated. My absolute dream would be to convince my husband to move to Venice and open a workshop there. It would be my dream! I think we will do it one day, my husband is Venitian. You need more financial surety to do this kind of projects.
Which designers would you like to see on L'Envers du Décor?
A couple named Chao and Eero or a Finnish designer named Inni Pärnänen. They make absolutely wonderful pieces. Designers from North Europe make very surprising pieces.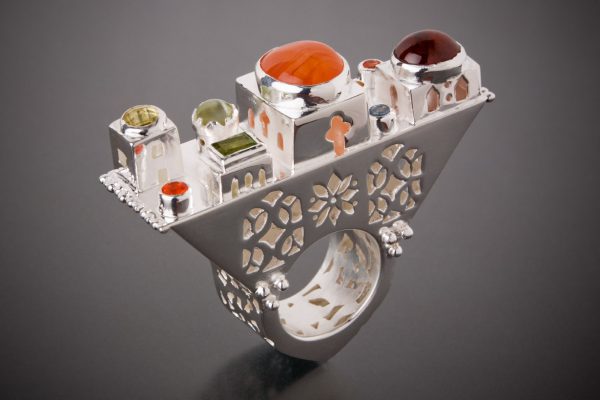 Thank you Aline!
To find Aline K Bijoux :
Website : https://alinek.jimdo.com
Facebook: www.facebook.com/alinekgioielli/
Instagram: @alinekbijou
Photos : © Aline K Bijoux. Photographies fournies par Aline Kokinopoulos et publiées avec son autorisation.