In this second article, Aline shows us her workshop. We can discover the tools that help her to create her complex and sometimes opened pieces. This visit also gives us the opportunity to know more details about her working approach and her materials choices.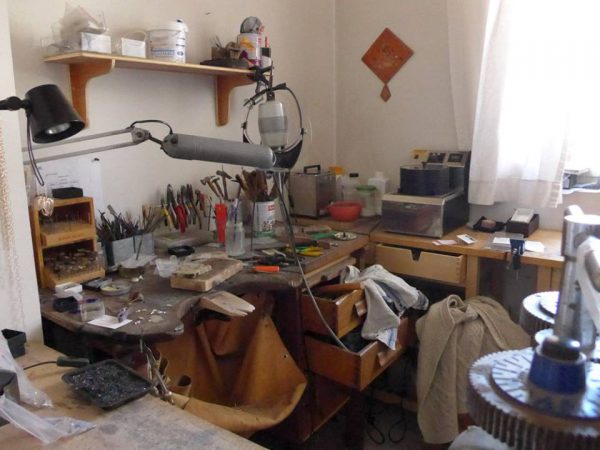 Where do you work?
For now, in a small room at home! My workshop is divided in two, my bench and my rolling mill are in a small room and big machines (polishing machines) are in my garage. The workshop is max 10 m2, it is full. When I was in Marseille, my workshop was not at home. I moved and looked for a new workshop outside – I wanted a boutique-workshop – but rents were so high, it was not possible.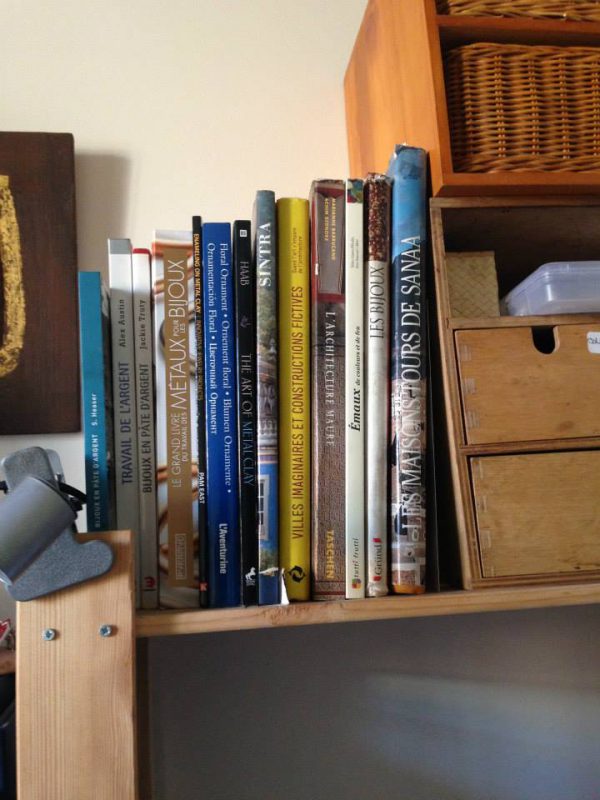 What is your favourite tool? How does it work?
My jewellery saw (bocfil). If we don't have a saw, we can't do anything!  I cut a lot, I have 4 different saws – with different sizes – including two saws in aluminium I found in the US. It is very light and handy. I use two of them every day because, according to the blade we use, we can cut wood, steel, cire… It is the first tool in jewellery.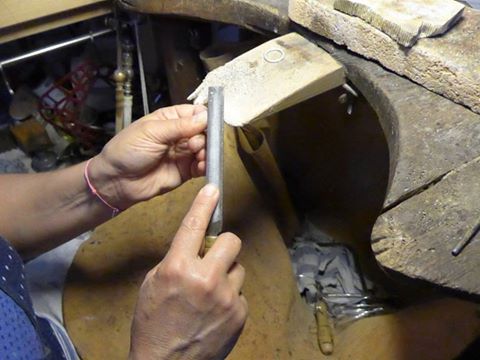 Are there others tools you often use?
All of them, my saw is the first one, then it is the handpiece, it is used to drill, to mill and to polish if we want to. However, my saw is the number one, if I have to leave, I take my saw first!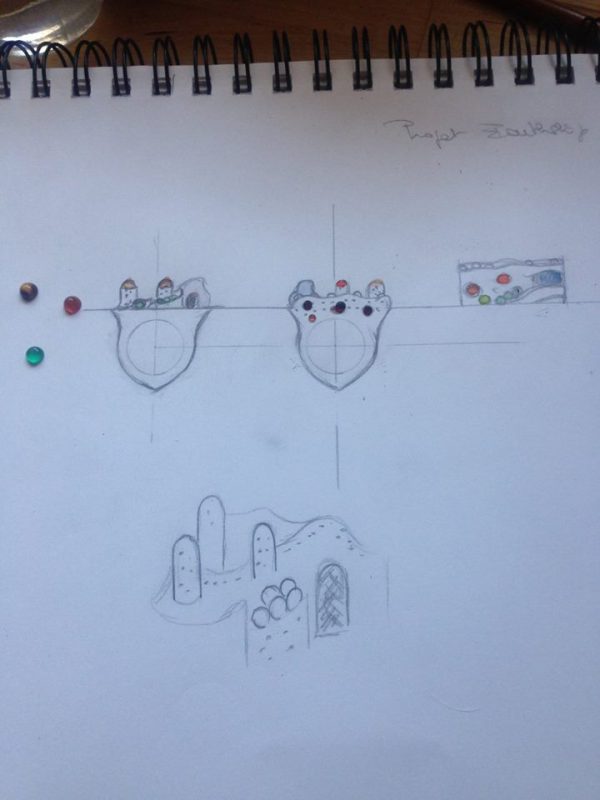 Which materials do you mostly use and why?
Silver. We could make brass jewels because it is cheaper but it is not a noble material. You will make a beautiful jewel in brass, polish it but you will have to varnish it to keep it polished because as soon as you will wear it, sweat will stay on it. It is a yellow metal to make models, it is not bright. To me, it is a metal for models or it should possibly be gold plated. It is costume jewellery. Time I prefer to make silver jewels – which is already a precious metal – than spending time to make brass jewels by hand. I really like the silver brightness, it is a white and aging well metal even if some persons darken it very quickly. Anyway, you can still work on it again. As a white metal, everything will be bright on it. Gold is so bright that it is self-sufficient. When I make jewels, I prefer silver ones. It is my favourite metal.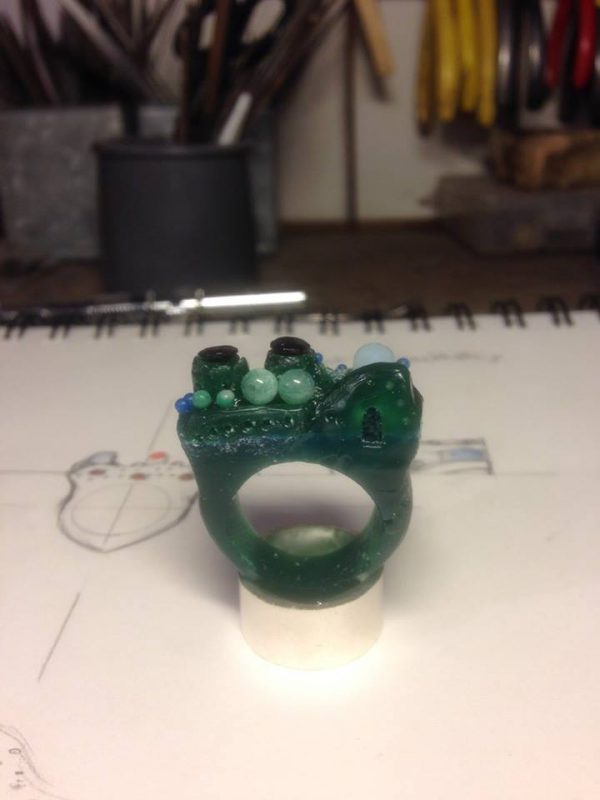 How do you choose raw materials?
I have been working with my provider in Marseille – Cookson and Clal – for twenty-five years. After this long period, we are able to trust each other. In Marseille, we are lucky because there are many jewellers and we can find everything we need around. There are a founder and setters, I am relatively faithful to people I work with. When you always work with the same persons, we can ask them favors, it is nice. Regarding gemstones, I have several providers because each one has a specificity. In Marseille, I work with Saphir France. I work a bit with Ruppenthal un Paris and, now, I can also find gemstones on Etsy thanks to a young Asian seller. She is the only one to sell the gemstones I want. She has gemstones and sizes I cannot find in France.
Over the years, one of my friends gave me gems she brought from India many years ago. I store it! I really love gems. I also buy some gems to Ruppenthal in Germany because they have big jade beads. Many persons want to order jewels and I can adapt my work thanks to this collection of gems. Everytime you add a nice gem on a jewel, you sell it. It is kind of magic with gems. However, you cannot use cheap gems, you always need very beautiful ones even if it is not precious, something has to happen with this gem. That's why I keep some gems even if it is cheap. Sometimes, I give it to my students to practice.
Metals prices are constantly increasing. We cannot work as before. We could probably replace gemstones by ceramic. My provider in Paris told me that turquoise will become very rare and hard to find. I think the last mine closed in Arizona. Each time we dig up a stone, it won't be there anymore. That's a thing which upsets me about my job, you need to think about it. Metal can be remelted, not gemstones.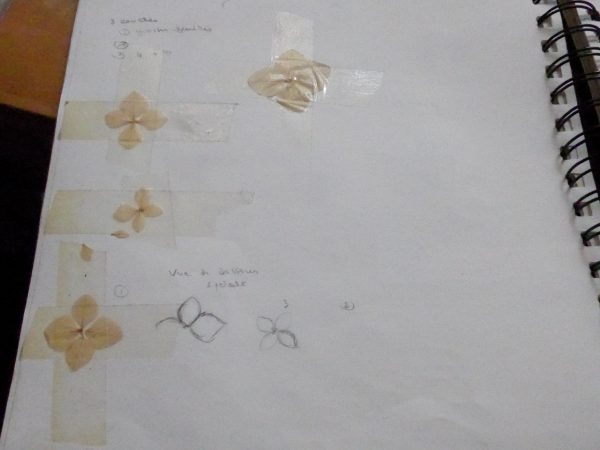 Are you working on your own?
Yes, I had a lot of students but not anymore because I don't have enough space. Moreover, I have sometimes been disappointed by some persons lately. These persons didn't know how to work and having a student can be a trap because he can be too imbued with the designer's work. I had to ask one of my former students to try to distinguish his work from mine. It is very ambivalent because I never ask my students to work according to my jewels, it is complicated to deal with it. If I had a bigger workshop, I would ask another student to come but, for now, I can't. I only have one bench so it's mine.
However, I don't want to delegate my production. I want to entirely take care of each jewel by myself. When I tell someone I completely made this jewel, it is true. Nowadays, we can use laser cutting but I prefer to cut by myself. Regarding my architecture jewels, it would be too complicated to use it. I could prepare a file for my flowers and use laser cutting. Then, I would just have to form it but I make all my flowers by hand. I can't laser cut all my flowers because I have 60 different models. Moreover, some flowers have five layers of petals. It is impossible!
To read the last part : > Aline K Bijoux – 3/3 More details about Aline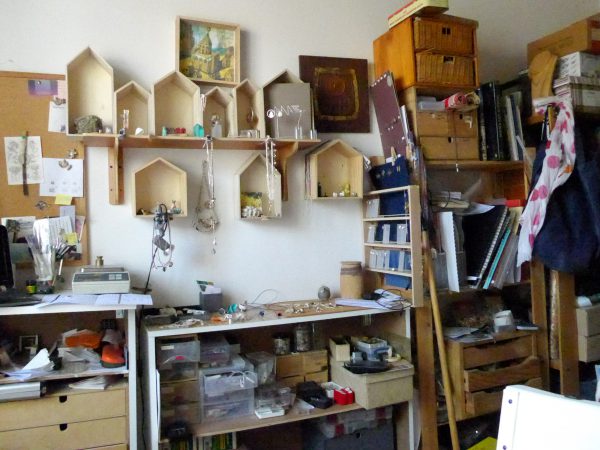 Photos : © Aline K Bijoux. Photographies fournies par Aline Kokinopoulos et publiées avec son autorisation.