Philip Sajet is a Dutch contemporary jeweler who lives in the South of France. Philip is a confirmed jeweler and he has become a reference for the contemporary jewel lovers over the years. He works towards minimalism : sharp lines, search of volume and a very small color and material palette. His work is a real questioning about the jewel status for humans and in the arts.
Could you please introduce yourself?
My name is Philip Sajet and I make jewellery. It could be defined as a very superficial and vain activity!
I want to understand everything, I am very curious about what happens in the world : nature, politics, art, etc. I like to follow things through and I have always been surprised by my attraction to superficials things such as beauty, vanity, etc.
Gathering these two contradictions took me a lot of time, it confused me. One day, I discovered Japanese writing which is composed of three different signs. It creates a language. I knew then that we could reconcile oppositions. Superficiality is the first and the last step to reach depth. Without superficiality, we are nothing. It is a significant part of the relationship with the body.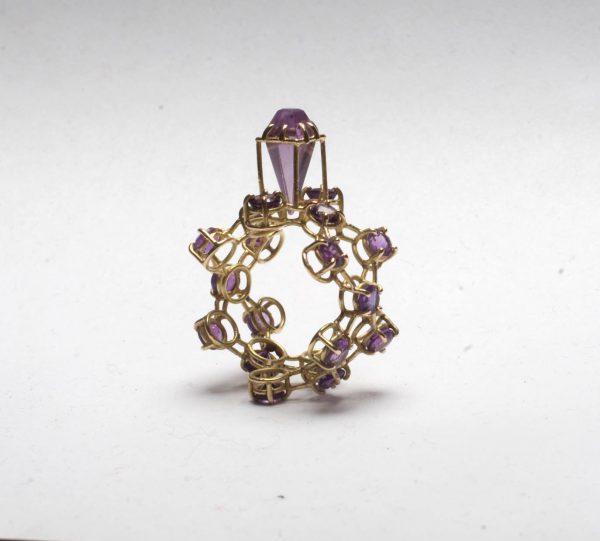 'Amythyst/amethyst ring', 2014, Amethyst, gold
'Amythyst / Bague améthyste', 2014, améthyste, or


How would you define your creative universe?
The answer is so wide.
I think there is an universal intelligence that shapes microcosm and macrocosm. If we only try to understand the world through Darwin's theory, it doesn't work. I am part of the universe, that's all. I think I create because it is essential to life.
When I imagine the most beautiful thing, I see a gardenwith trees, birds, grass, clouds made of white gold, platinum, precious stones, diamonds, etc. I picture myself walking in a jewellery paradise. My universe is based on that.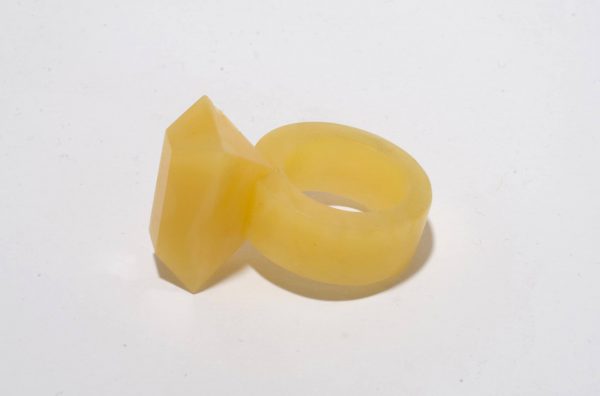 'Amber/amber glue ring': 2014, Amber, glue
'Ambre / Bague ambre collée', 2014, Ambre, colle


What is your background? How have you decided to start jewellery?
I studied to become a social worker. I also worked in a jail for a while but I got fired. I was 26 and I didn't want to do this job. I started jewellery very late, I was 24. I was making small sculptures and working on it for hours. It only felt like 5 minutes had passed. I wasn't seeing time flying by. I always thought I wasn't talented. I realized really late that, apparently, something was happening. 
I started jewellery in 1977. At school, I was the only one to arrive at 9 a.m. and to leave at 5 p.m. I left school in 1981. In 1985, my work was not accepted, I was making many different things because I got quickly bored, it was not consistent. Ra Gallery, created by Paul Derrez, was not interested in my work. At that time, this gallery represented all the contemporary jewellery field with Cada in Munich and Electrum in London. There was almost nothing at that time. Now, it is a completely active and turbulent world.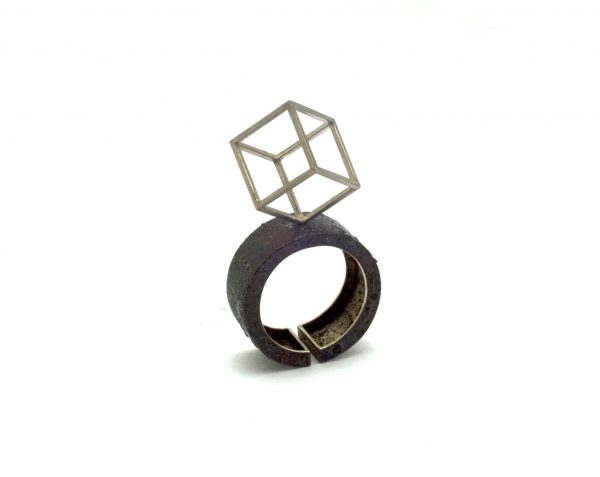 'The Wenzel Jamnitzer ring', 2013, White gold, niello on silver.
'Bague Wenzel Jamnitzer', 2013, Or blanc, nielle sur argent


I was not sure to be talented but to be unable to see time flying by was amazing. It was a sort of paradise, I was not anxious about time anymore. At that moment, I decided two things: I needed to earn my life and I wanted to know if there was a problem with my work or with the system.
I started to falsify Greek, Roman and Dutch coins. I cut it and I used the dices to make the prints. I went to a bank with these coins and asked them their opinion without specifying that it was a Dutch coin from 1532.
They said it was a very interesting and unknown version. They wanted to buy it 250 guilders being a fifth of its real catalog. I sold it without problem because I could stand 5 new coins a day. They bought it, it was my second sale and it was in 1985. The first was a pendant made after school.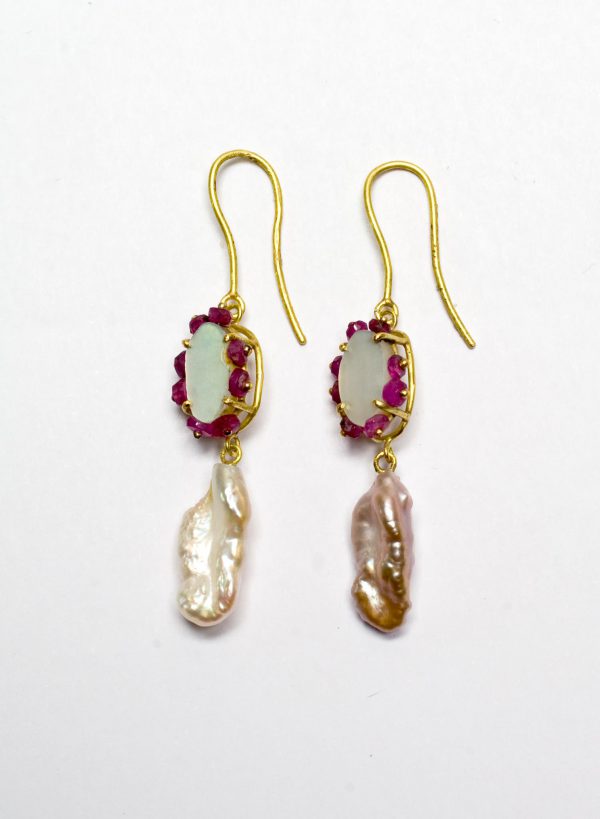 Mother of pearl, pearl, ruby earrings, 2013
Nacre, perle, boucles d'oreilles ornées de rubis, 2013


How did your career evolve?
After this event at the bank, I started to think about working with coins in silver and gold. But, I was contacted by Louise Smit who was opening a gallery. She wanted me to have a solo exhibition in 1986. She came to my workshop, I only had 2 pieces : a black bracelet and a jade brooch. She wanted it and she told me we could organize an exhibition five months later. During the next three months, I was unable to work, I was stuck. I could only paint. I painted gouaches on very thin rice paper. Louise Smit and her husband came back and I thought this project was over. But, Louise and Robert really liked my gouaches. I had two months left before the exhibition. During this period, I worked because I didn't want to show only gouaches. I produced 21 pieces. The exhibition was great. I didn't sell a lot but there have been many reactions. Journalists came, I was really happy. 
This exhibition and others till 2003 were great. Around this period 2005, I felt people were less interested in my work. From 1986 to 2003, my work has provoked many reactions. I participated in exhibitions and the public liked my work. This people were amazed by all my pieces including the weaker ones. It was quite dangerous. I realized that one day – on the contrary – this people could dislike all my pieces including the beautiful ones.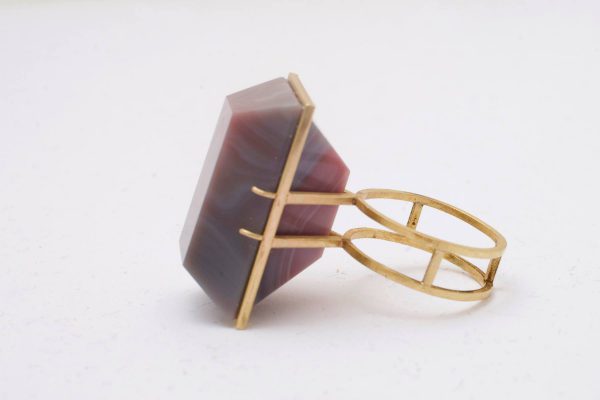 'Perfect Red Agate ring', 2013, Red agate, gold.
'Bague avec une agate rouge parfaite', 2013, Agathe rouge, or


I was prepared to this debacle, it happened beween 2003 and 2008. I have been ignored during this period. I managed to pull through because I continued to work, to make pieces and exhibitions. I continued to sell and I realized that, I had apparently some abilities during this peirod. Otherwise, I wouldn't have survived.
I think I have a limited talent but I used it to the maximum. Sometimes I feel like a Citroen 2 CV which covers long distances but I sometimes see persons who look like a Maserati but they only go to the corner supermarket and that's it!
Many things influenced my work and my life. Miles Davis said 'In the end, there's only work, work and work' and Nijinski asked to have this inscription carved on his grave: 'He used his talent to the maximum'. Picasso said that when he wanted to paint red, he used blue. These quotes helped me. Miro awoke at 5 a.m. to walk on the beach before work. I think about it when I am still sleeping at 8 a.m.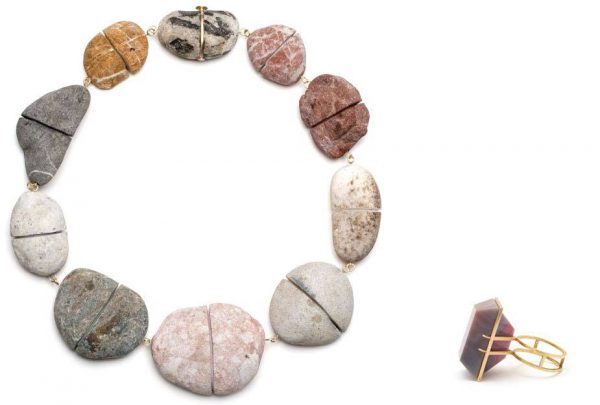 Left : 'Radiant pebble necklace': 2015, River pebbles, gold.
'Collier Galet radieux', 2015, Galets de rivière, or
Right : 'Perfect Red Agate ring': 2013, Red agate, gold.
'Bague avec une agate rouge parfaite', 2013, Agathe rouge, or


You started by creating sculptures, how did you start jewellery?
I entered in an art school and it was easier via evening classes and via the jewellery section. Therefore I chose the jewellery department only for pragmaticreasons. Then the magic of jewellery, fire and metal happened.
I started to think about the status of the man who works with fire and metal in the villages. He used to live outside the social mainstream while being the most important person. That's how my fantasy about a priest who lives apart from the village and heals people is born. In my deep imagination, that's maybe because my father and my grandfather were doctors. I have always liked to take care of plants and animals. I am wondering why people want to have my pieces and I think it is because these ideas pass through my pieces. For these persons, it is not only a luxury, it is a necessity.
We don't make things just for one reason but for several ones. These different reasons appear and, at one point, it becomes necessary to do it.
My grandfather, Abraham Toper, was also a jeweller, in Paris. My mother told me he had his small boutique-workshop with a dog in front of the door. One day, in 1983-1984, I was working in my workshop, the door was opened and my dog was lying in front of the door and it reminded me this story. I had reproduced the situation. Her father was the only man she could talk about with unconditional love. I think that's largely why I chose jewellery.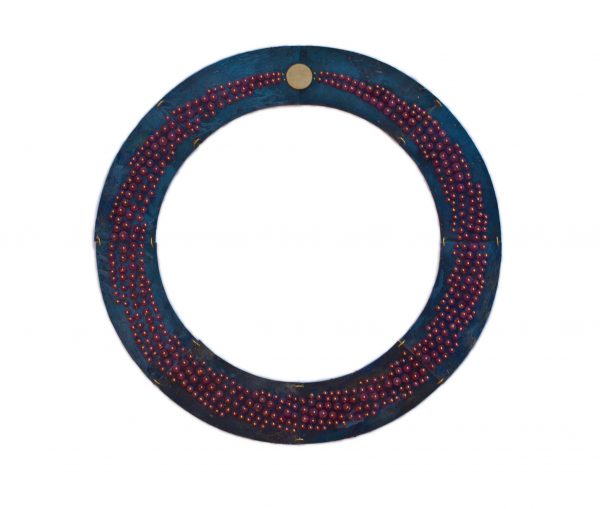 'Fire spiral necklace', 2016, Rubies, niello on silver, gold.
'Collier Spirale de feu', 2016, Rubis, niello sur argent, or


How does your creative process work?
The creation of a new piece happens automatically. I don't need to find a lot of new ideas. Now, I can make my models again, improve it, change details, etc. I can tell you where my idea comes from for a specific piece but it is difficult to describe a typical process.
For example, I look at a cloud in the sky and I convert it into a jewel. I imagine everything into geometric shapes. Necklaces are circles. So, in front of the situation, I project it into a circle to see if it can become a necklace. A necklace is a flat circle in two dimensions, a ring is sculptural and round with a piece on the top. It stands and it is in three dimensions. Earrings are by two and they hang. These three jewels are very different and pique my interest. I don't really understand the utility of a bracelet or a pin so I don't care much about it.
I am especially fascinated by the circle. Earrings amuse me, it is a kind of appetizer! However, I like the ring and the necklace differently. It started with the Egyptians, the Byzantines, the Jews, the Greek, the Etruscan, the Church, etc. The ring was really important, a symbol of power and authority.
I wrote a text entitled 'Man and his Ring', I published it on Facebook. Here is the text :  'Man and his Ring' by Philip Sajet .
Life is a natural circle, you start your life somewhere, you stay at the superficial level then you progressively start to understand things. 
I now manage to crystallize passions, loves and affections I had as a child. I am now 63 years old, I succeeded in giving a meaning to my life.
'Man and his ring' is a synthesis about what is a jewel and what is art. It is a synthesis of 30 years of work in 12 minutes and nobody wants to read it, I think it is funny.
To read the 2nd part : Philip Sajet – 2/3 Know-how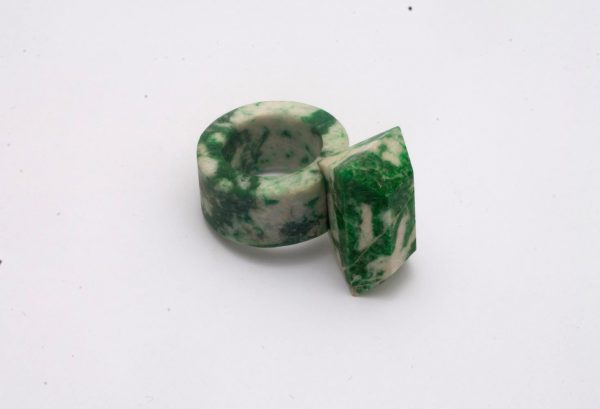 'Jade/jade glueing', 2014, Jade glue
'Jade / Collage de jade', 2014, Jade, colle

Photos : © Beate Klockmann. Légende couverture : 'Agathe glue ring', Philip Sajet, 2015, Agathe, glue.Bague agathe collée, Philip Sajet, 2015, Agathe, colle.
Photographies des bijoux de Philip Sajet fournies par Philip Sajet et publiées avec son autorisation.