Pierre-Henri working days are split between his workshop in Vendée and his apartment in Nantes. A place is dedicated to the production and the other is dedicated to all the others tasks related to his activity.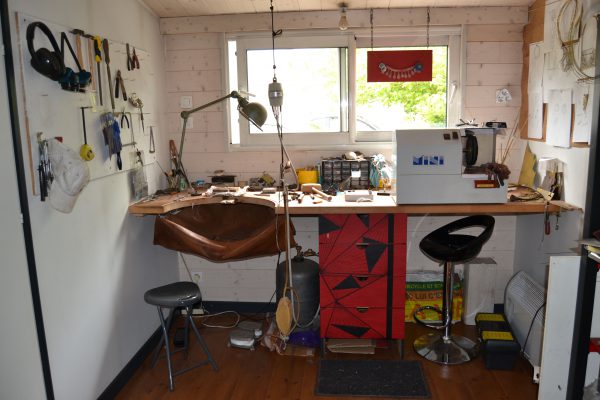 Where do you work?
Most of my work is done in my workshop, for now it is at my parents' house in a small village, next to Noirmoutier, and I also work in my appartment in Nantes.
What is your favourite tool?
The bocfil my saw, maybe because it is the first tool I have discovered but I think it is very useful. It is the tool I most often use. Even if mine is only five years old, it looks like an old tool because its wooden handle acquired a patina, it is becoming a beautiful object.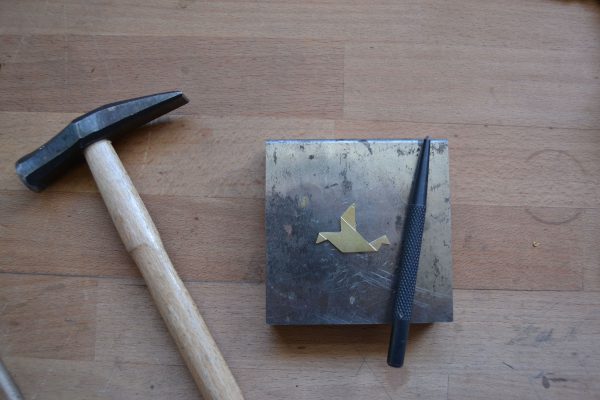 What are the tools you mostly use?
My saw to cut the metal, my torch to weld and braze, my polishing lathe to polish jewels, files to reshape metal after cutting it, some cutting or parallel pliers and the scriber to engrave the Origami collection!
Whiwh materials do you mostly use and why? Which ones do you prefer?
Brass is the metal and material I mostly use because it is the base metal of almost all my pieces. It is cheap and not governed by a legislation (like gold or solid silver) and it is really easy to work with it! For now, I also work with solid silver, wood, some plexiglas, slate and leather.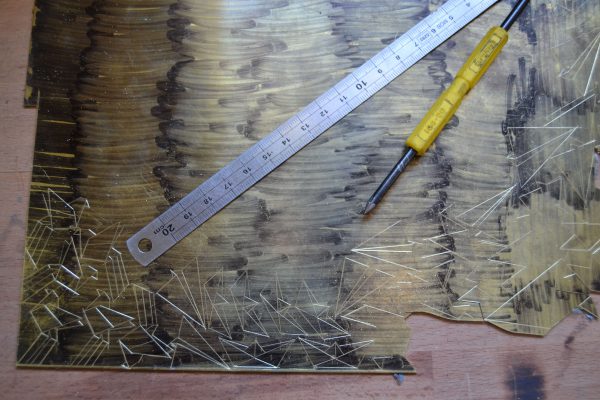 How do you choose raw materials?
Brass because it is easy to buy, cheap and easy to work. Regarding the remainder, it is done progessively, my search for materials depends on what I can have and, above all, the aestheticism I want to give to my piece. Then, there are some technical constraints which can direct my choice, regarding the wooden rings, for example.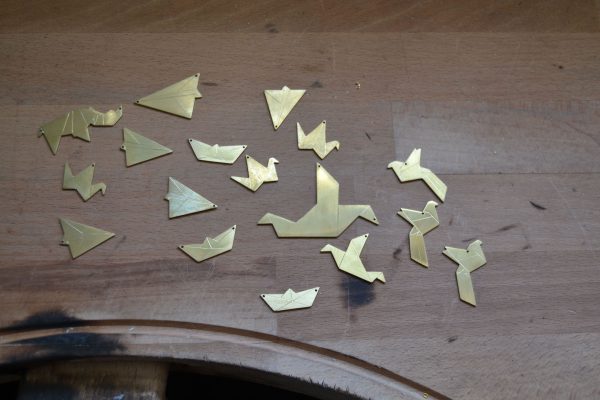 What does a usual working day look like?
It is difficult to define! It is never really the same. Some days will mostly be dedicated to some computer work, mostly in Nantes, including answering my emails, orders management, the website's maintenance, application forms, restocking management and the work on the brand image.
Otherwise, there are days at the workshop, it is dirtier! There will be days dedidated to cutting, shaping, welding, polishing, research, production of stands for fairs. I often stay at my workshop until 11 p.m. but please note that I rarely arrive as early as 8-9 a.m.!
The organization of working time and the division of tasks are still hard for me. As I am alone to do everything, I am always juggling with everything so I rarely spend complete weeks at the workshop!
To read the next part : 3/3 More details about Pierre-Henri…
Photos : © Peter Hopper. Photographs provided by Pierre-Henri Bouhier and published with his approval.