Marine Cauvin is an ornamentalist sculptor and art turner in wood. With Marine, jewelry making has started as a convenience and has progressively become obvious. Her playground was easily found.
Her approach is resolutely contemporary, she sublimates natural elements gathered during her walks. Here is an overview of her work.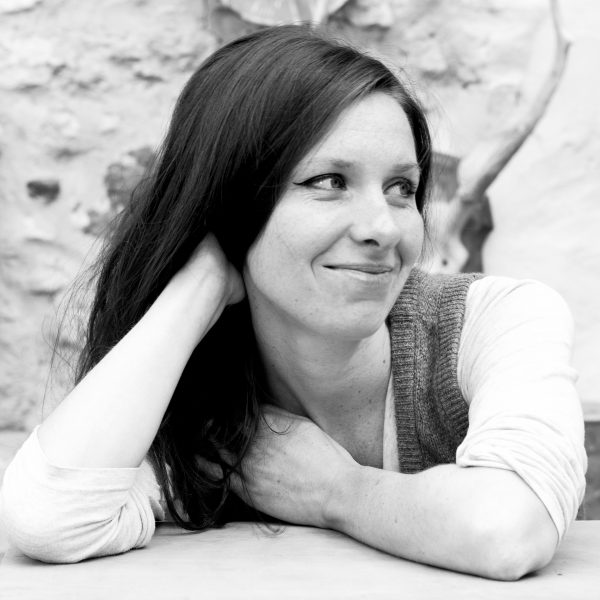 © Christine Réfalo
Could you please introduce yourself?
My name is Marine Cauvin, I am 31 and I have been making jewelry for six years. I started as an autodidact. I live on an island called Belle-île-en-mer, in France.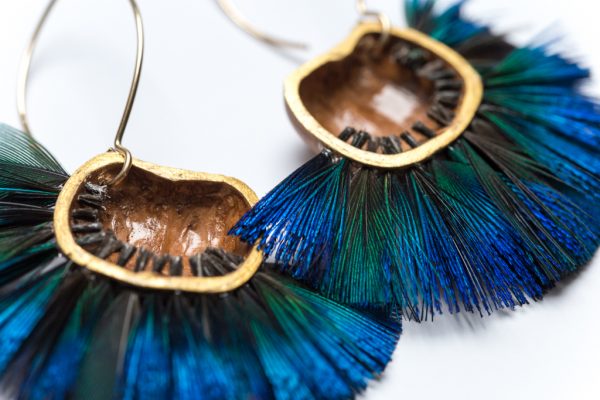 © Fabien Guiraud
How would you define your universe?
I work with things I pick so my creative universe is related to natural materials, to crops, to seasons, to what I gather and what people bring me. It is a slighltly peculiar approach because it is really according what I find.
I am trained to work with wood, I am an ornamentalist sculptor. It concerns bas-relief (furnitures, pediments of the churches…). I divert wood technique to make jewels. There is almost no opportunity to make ornamentalist sculpture, I tried for a while but I gave up on becoming an ornamentalist sculptor. I still make sculptures for me.
I would like to move things forward by making, for example, slightly sculptural jewels that could be like talismans, special pieces. I will not keep making classical sculptures. However, I make jewelry as I make sculptures, I use my chisels. There is a huge job of sculpture, I almost do everything without power tools. These techniques really are proper to wood : sculpture, engraving and gold leaf gilding.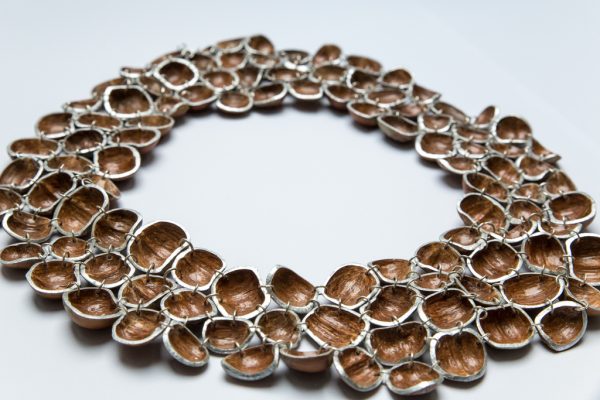 © Fabien Guiraud
How have you launched this jewelry activity?
It has been a very long process. I finished my studies about wood in 2004 and I looked for a job in this field for a while. There are very few offers and they were looking for people with more experience. I gave up.
Then, I have worked with people with intellectual disabilities as an animator for arts and crafts. This was about different workshops : drawing, recycling, etc. It was a very different approach. I progressively realized that I should be trained to do this job with these persons. I passed an exam to be a monitor-educator but the day before the beginning of this course, I realized it was not possible. I was missing something regarding crafts, creation and expression. It was not possible in the long run. I decided not to go and I started to tinker to find that old link with handmade work, to see what I was able to do, etc. Jewelry was almost out of spite, I thought it was easy, small and it was so much easier to buy a small jewel rather than a painting or a sculpture. Progressively, I realized all the possibilites in the jewelry field. And now, it is obvious. All this process was necessary to find jewelry. It was not a passion and it was not obvious.  I haven't seen a person making jewelry or thought it was a job for me. It was a progressive process.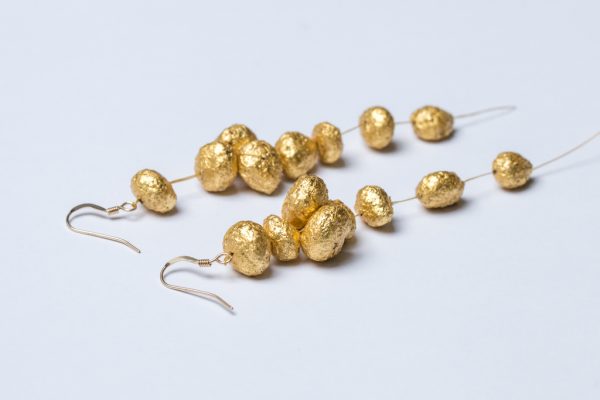 © Fabien Guiraud
Have you studied jewelry or are you a complete autodidact?
Last year, I practiced welding to be able to make primers by myself to sublimate natural materials. Ready-made primers we buy are not always easy to use, it is quickly binding. I haven't use techniques I learned during this course yet because it requires financial and logistic investment at the workshop. I have also met nice designers who provided advice. Apart from this 15 days small course about welding, I tinkered everything by myself. At the beginning, it was a disaster. One great thing is to be able to technically be able to make what you have in mind. Then, it doesn't work or people don't necessarily like it but, anyway, to find a way to make it is really rewarding. We obtain the result we wanted.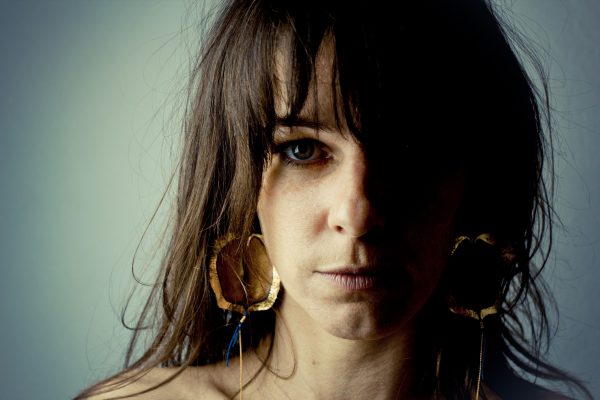 © Christine Réfalo
Have have you entered this professional field?
It was tough and it is still difficult. I had a small with my life partner, who is a ceramist, in a small village called Saint-Quentin-la-Poterie (Gard, France) which is a ceramists village.
One day, Françoise – who owns a small shop 'Éclats dame' dedicated to jewelry designers in Paris – came over to the workshop by accident. It was a great opportunity. She liked my work and decided to try to sell it. She is the first person who trusted me however, it was not easy because it was the beginning! Then, the major boost has been the Ateliers d'art de France. I subscribed three years ago and it has been a real springboard. I had access to public fairs, their different outlets, galleries, etc. It is a really interesting network. Even if I don't come from the traditional know-how field, I already had this course about wood which is part of their selection criteria.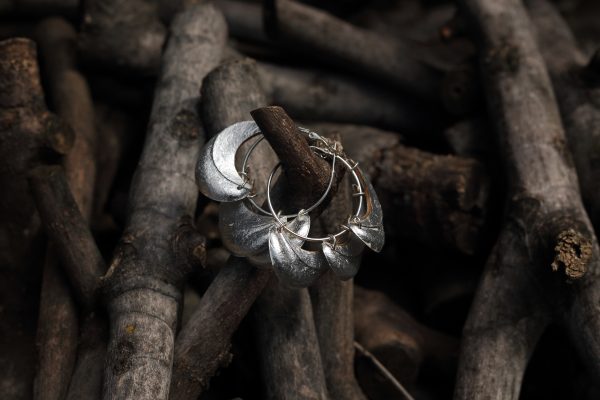 © Anthony Girardi
Do you remember your first jewel?
I remember my first jewels but I especially remember the first jewel that mattered. It happened quite quicly with cupules (of glans). At the beginning, I tinkered a lot, I made assemblies to create costume jewels. There was always a small wooden piece, a feather or another natural element but nothing very  elaborate. One day, I had cupules of glans in my hands and I felt there was something to do. This cup shape is really beautiful. I wanted to try to gild it inside. When I did it, I realized it was what I was looking for. I needed to find a way to use my wood techniques. Gold leaf gilding is wonderful because it makes everything precious. Gilding is the central thread because it is a way to make materials I gather accessible. A path opened. I could use wood, materials I pick, nature genrally speaking and jewels. It was a revelation and, at the same time, it is done since time immemorial.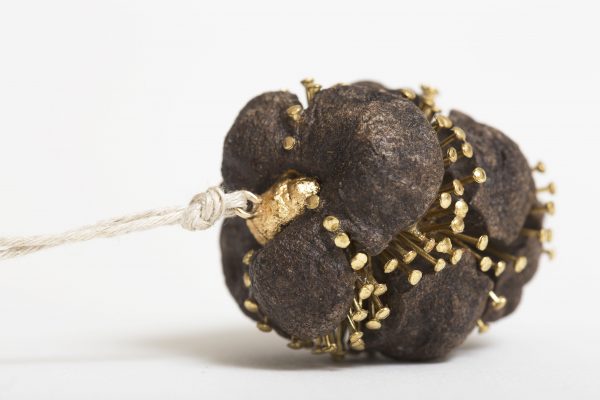 © Christine Réfalo
Where does your inspiration come from?
Nature is not an inspiration, it is the source. I really like primitive art, ethnic minorities, everything done in jewelry : ornament, the sacred aspect of jewelry in rituals and in belonging to a tribe. Everything that can evoke the assertion of a singularity.
Apart from this, I am a fanatic of contemporary jewels. In France, it starts to be slightly more famous but in North Europe, there are amazing things. It is a really recognised as an art. On one side, there is  this attraction to very archaic things, the meaning jewelry can have for a person (ethnic minorities and primitive art) in particular because I use the same materials. On the other side, it is the opposite, I like the most innovative things.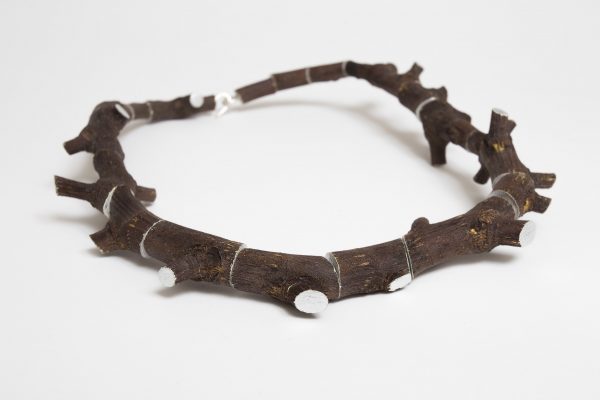 © Christine Réfalo
In France, the jewel status is not as asserted and clear as in other countreis, can we say it is still considered as crafts rather than art?
After I thought about it, the art of adorning is one of the first human art forms. Now, there are all these abuses of the consumer society. We accumulate so many pieces that we don't realize anymore that jewelry is an art form just like haute couture. In France, there is still a long way to go. The Ateliers d'art de France have done a tremendous work of information and promotion of these jobs.
To read the next part : Marine Cauvin – 2/3 Know-how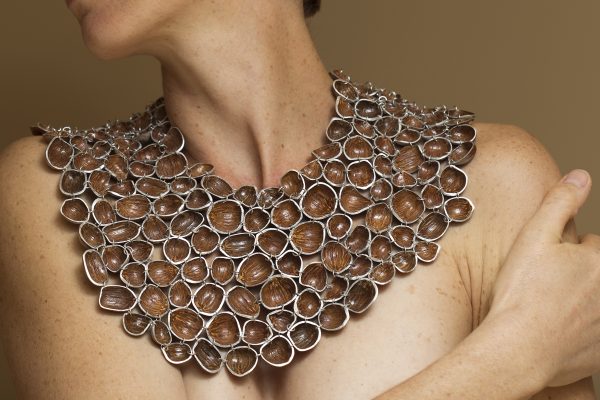 © Christine Réfalo
Photos : © Christine Réfalo, © Anthony Girardi, © Fabien Guiraud . Photographies fournies par Marine Cauvin et publiées avec son autorisation. Cover : © Christine Réfalo .